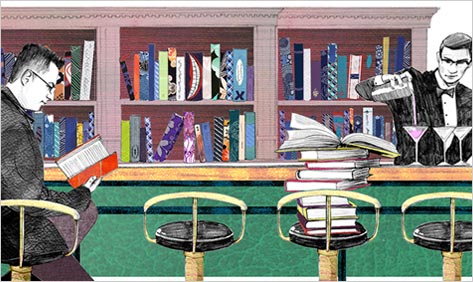 "[The Slow Movement] … emphasizes slowness in the creation and consumption of products as a corrective to the frenetic pace of 21st-century life."–The New York Times


Don't rush into it, but we hope you'll join us at The Snail's Page, the literary program at the carefully-paced vanguard of the Slow Reading Movement. We believe that as with every other activity these days, reading has become rushed and frantic–wedged into the five minutes of the subway from 96th Street to 72nd, or in ten-minute audiobook snatches on the morning commute to downtown Austin or in the short time your grouchy husband or wife allows you to leave the light on in bed at night.
We believe the time has come to slow down the very act of reading, to stop tearing through books as if they were time bombs or a Milky Way. As a guide to the practice of Slow Reading, we offer the following suggestions about how to read the first sentence of Charles Dickens' A Tale of Two Cities:
"It"–OK, this is a good place to pause. Close the book and look at it, pick it up and inhale the odor of your basement room in the freshman dorm where you first read it. Remember the lovely visit from Tawnee, the yogic freshman cheerleader. Oh, Tawnee! Take some deep, calming breaths, and consider the incredible utility of pronouns. Do we thank "it" and "he" and "which" and so on? Not nearly often enough. Thank them all now. See? We just used "them." And then "We." Thank all pronouns. Appreciate the brevity of "it" and sympathize with this word for all the antecedental burdens that it must bear–including, in this sentence, itself. Try saying something of any length without using it, or other pronouns. It's very difficult. Just try it. We can wait. You just go ahead and give it a whirl. Then wonder who first used the word. Imagine some Angle or Saxon in the Midlands of England in the Sixth Century yelling at his son, who is trying to set the thatched roof of his hovel afire, "Cut it out!" Where did that come from, he wonders, and you wonder too…. Where did "it" come from?
For that matter, how can it be that words in any language actually work to represent things and actions and ideas? How did that sentence about the Angle delinquent manage to conjure in your brain a picture of a snotty-nosed Angle eight-year-old with filthy hair and a demonic grin already featuring a few rotten teeth, dressed in burlap or whatever they wore back then, in the mud just over a sty reaching up toward the low-hanging thatch roof with a torch made of a small sheaf of reeds he lit from the pathetic peat fire in the fireplace of that one-room hovel with his mother hunched over trying to patch burlap garments with dried scrub from a fen? For that matter, when you say, "I'm eating some cake," how does that work? Why don't you have to actually eat some actual cake in order to let someone else know that you're eating some cake?
It's a mystery. Just like "it." Say "it" over and over again–itititititititititititititititititit–until you achieve what Buddhist monks call samprajnata. It is not merely empty-mindedness but a vast stillness that is indescribable to the typical level of waking state–in other words, in …. other …. wordzzz zzzz.
Tomorrow–or maybe the next day: "was"
Daniel Menaker is the Editor of Grin & Tonic.