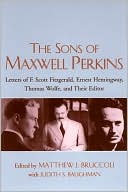 Ernest Hemingway wrote to his Scribner's editor, Maxwell Perkins, from Cuba on this day in 1940 to wonder, "How about this for a title — For Whom The Bell Tolls." Hemingway went on to quote the full John Donne passage and to say that, of the thirty titles he had tried out while writing the novel, "this is the first one that has made the bell toll for me."

Perkins is also tied to this day through Thomas Wolfe, who published The Story of a Novel on April 21, 1936. This was Wolfe's account of how he and editor Perkins turned crate loads of manuscript into Of Time and the River, Wolfe's sequel to Look Homeward, Angel. Earlier on in the process, Wolfe praised Perkins for being "a man of immense and patient wisdom"; then Wolfe took a two-week break from their joint labors and came back to find his book already at the printers:
"You can't do it," I told him, "the book is not yet finished. I must have six months more on it." To this he answered that the book was not only finished, but that if I took six months more on it, I would then demand another six months, and six months more beyond that….
The story of this turning point in Wolfe's life — hurt, he left Scribner's for Harper and Row — is told in The Sons of Maxwell Perkins (2004). This follows the winding trail of Perkins's relationship with his three most famous (and high-maintenance) writers, Wolfe, Hemingway, and F. Scott Fitzgerald, the book's title coming from a comment made in an April 1938 letter from Fitzgerald to Perkins: "What a time you've had with your sons, Max — Ernest gone to Spain, me gone to Hollywood, Tom Wolfe reverting to an artistic hill-billy."

Perkins had hoped that his three thoroughbreds might get along better than they did. Fitzgerald and Wolfe famously quarreled about whether the writer should be a "taker-outer" or a "putter-inner"; Hemingway often made sarcastic comments to Perkins about Wolfe's "over-inflated journalese" or Fitzgerald's "cheap irish love of defeat"; Wolfe described Hemingway to Perkins as "the Big Big He Man and Fighter with Words who can't take it."
---
Daybook is contributed by Steve King, who teaches in the English Department of Memorial University in St. John's, Newfoundland. His literary daybook began as a radio series syndicated nationally in Canada. He can be found online at todayinliterature.com.