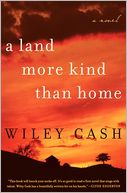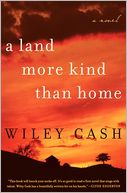 Dear Reader,
One of the highlights of our selection committee meetings comes when a reader says something to the effect of: "I'm not usually drawn to books like [title], but I couldn't stop reading and thinking about [title] because the writing and the characters were just that great," before launching in to an impassioned riff on why he or she thinks the book in question should be chosen for the Discover Great New Writers program.
We had plenty of readers who picked up A Land More Kind Than Home and loved it from the start, but I was especially happy when a reader I wasn't expecting to vote yes, did, because she loved Cash's sure prose and characters' voices. Cash does a fine job of easing between the voices of the story's narrators, Jesse, Adeleide, and Clem, as well as cutting across time, to propel the tragic story forward.
Cash shares his thoughts on Southern lit and adolescent poetry, among other things, below.
What is A Land More Kind Than Home really about, in your opinion?

The novel tells the story of the bond between two young brothers and the evil they face in a small town in the mountains of North Carolina. I think the novel is about lost innocence and the constant threat of dark, outside forces we often don't understand until it's too late. But, ultimately, the novel is about the power of forgiveness in the wake of tragedy and a community's ability to heal.

A Land More Kind Than Home is set in the mountains of North Carolina. Historically, readers have been especially interested in novels set in the South. What is it about the South that draws their interest?

The South has always been a great a source of mystery, even for those outside the United States. Some of this country's first regional writers were writing about the South; I'm thinking of authors like Mark Twain, Kate Chopin, and Charles Chesnutt. Northern readers were very curious about what was going on below the Mason-Dixon line in the late nineteenth century – and with good reason. Even after the Civil War and Reconstruction, the South remained very different from other parts of the country, even as it moved away from an agrarian economy and toward industrial manufacturing. Writers like Langston Hughes, William Faulkner, and Margaret Mitchell also kept readers interested in the South.

But what I find interesting about the American South is that there are so many areas we can call 'the South'. Virginia and Florida have about as much in common as California and North Dakota, but Virginia and Florida get lumped together anyway. But when we read a book by a Virginia author like Lee Smith and then Zora Neale Hurston's Florida in Their Eyes Were Watching God, we understand how incredibly different these two places are. I never realized the diversity of the American South until I spent five years living in Southwest Louisiana, right in the heart of Cajun Country. But even Louisiana has its different Louisianas, its different identities. If you want to know about Southwest Louisiana you should read a book by Ernest J. Gaines. If you want to know about New Orleans you should read Kate Chopin or Tennessee Williams. The same goes for North Carolina. Perhaps that's why the American South looms so large in our imaginations. There are just so many rich cultural histories and beautiful dialects.

Book clubs have become a popular way for readers to come together and discuss books they find interesting. Are there any particular themes that book clubs might enjoy exploring in your book?

I think faith and the role it plays in people's lives is always a provocative topic. I got the idea for the novel originally after coming across a news story about an autistic boy on Chicago's South Side who was smothered during a church service. The story is obviously unsettling, but I couldn't help but be curious about a group of believers who would literally believe in something so dangerous. In my novel, the boys' mother, Julie, can't possibly know what will happen when she takes her children into the church. She can't possibly foresee the tragedy that awaits them.

This is a novel with family and community at its center, and I wanted the community to tell the story of this family. That's why I chose for it to be narrated by three voices: nine-year-old Jess Hall, the youngest of the two brothers; Adelaide Lyle, the church matriarch who acts as the community's conscience; and Clem Barefield, a local sheriff who must confront his own painful past to understand the root causes of this event.

Have you always been a reader? A writer?

I tell my writing students that you must nurture and protect your reading life before you can attempt to create a writing life. Trying to write without reading is like trying to drive a car without gas in it. I've always been a reader. I was very fortunate that I grew up in a home that took literacy very seriously. On our sixth birthdays, my brother and sister and I were all given the opportunity to get our first library cards, and I can clearly remember the first time I held mine in my hands. I grew up in a community that didn't have a bookstore, so going to the library and being able to pick up books and flip through them and then take them home was like stepping into Oz; it was almost too good to believe. I still feel the same rush when I step into a bookstore or a library; I look around at all the books and realize that each one is an opportunity to visit a place I wouldn't have visited otherwise, a chance to meet people I never would've met.

My mom always read to us, but when I branched out on my own I found myself really interested in biographies. I poured through the biography section in the library, reading bios of basketball players like Walt Frazier and Larry Bird and "Pistol" Pete Maravich. These were my first heroes. As I got a little older I began to adopt literary heroes like Jack Kerouac, Thomas Wolfe, and Ernest Hemingway. I began to write doomy, self-centered poetry like everyone does when they're fourteen. (Wait, everyone doesn't do that?) Okay, so I was a weird kid.

By the time I got to college I realized that I was a pretty terrible poet, mostly because I'd been reading the same bad poets and their poetry over and over for years. But I knew I wanted to write, so I tried my hand at fiction. The first short story I wrote was published. I thought I had the writing thing all figured out, and then I waited ten more years for another publication. But I'm glad I never gave up; those ten years were filled with rejection, but I saw each rejection as an opportunity to improve my writing, and that's what I tried to do.

Who have you discovered lately?

One of the most amazing things that's happened since my book was sold to William Morrow is that I've had the opportunity to meet a lot of writers I've always admired as well as a lot of writers who are just starting out like me. Among the writers I've recently "discovered," there are several I'm really excited about. Ben Fountain, author of the story collection Brief Encounters with Che Guevara, has a first novel titled Billy Lynn's Long Halftime Walk that's really wonderful. I've met Ben a couple of times and he's easily one of the kindest, most encouraging writers I've ever been around. Another great writer and super-cool guy is Matt Bondurant, whose new novel The Night Swimmer is really interesting and haunting. One forthcoming book I'm really excited about is Shine, Shine, Shine by Lydia Netzer. I read the galley and was blown away: laughing, crying, the whole nine yards. It won't be out until June, so while I read it I felt like I was discovering a secret the world didn't yet know.
Cheers, Miwa
---

Miwa Messer is the Director of the Barnes & Noble Discover Great New Writers program, which was established in 1990 to highlight works of exceptional literary quality that might otherwise be overlooked in a crowded book marketplace. Titles chosen for the program are handpicked by a select group of our booksellers four times a year. Click here for submission guidelines.