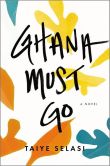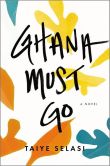 Dear Reader,
Spectacular is a word used sparingly around the Discover Great New Writers' table, but it's exactly the word multiple readers used to describe Taiye Selasi's debut novel, Ghana Must Go, a diaspora story for our global age told through lush prose and vibrant imagery.
We're not alone in our accolades: "Taiye Selasi is a young writer of staggering gifts and extraordinary sensitivity. Ghana Must Go seems to contain the entire world, and I shall never forget it." – Elizabeth Gilbert, author of Eat, Pray, Love and Stern Men, a Summer 2000 Discover pick.
Taiye discusses the books and music that inspire her, what fiction can do that essays cannot, and why she's so drawn to travelers' tales with Discover Great New Writers.
What's the origin of Ghana Must Go?

The story came to me "whole," as all stories do. I'd been waiting, thirty years I think, to write a novel—that is, to receive a story worthy of the form. It was the autumn of 2009, and I'd gone to a yoga retreat with one of my best friends in Sweden. Something about the experience—waking up every day at 5 AM to do karma yoga, pulling shrieking beets and carrots from the frozen earth, sitting in meditation meditating on hypothermia—must have jolted the thing out of me. I was standing in the shower when I saw all the Sais, all six of them, just like that. My friend and I abandoned the retreat, took the train to Copenhagen, and settled into the Admiral Hotel. It was there that I wrote the first ten pages of the novel, or perhaps more accurately: wrote them down.

What do you mean by that?

I love this Philip Glass quote: "I don't write music, I write it down." This is certainly how prose always feels to me: something remembered, something recorded, rather than a thing created. The rest of the novel took about two years to write. A crushing heartbreak, a six-month writer's block, and a rather impulsive move to Rome later, I finished a novel that told a story I already knew, had always known.

Where do you find inspiration? Are there any books that have stayed with you and influenced your writing?

I read the high school canon with great attention more because I was a good student than because I was a good reader—but three books reached out, grabbed me by the heart, and never let go. Lolita, The Great Gatsby and The Unbearable Lightness of Being changed the way I thought of novels, because Nabokov, Fitzgerald and Kundera seemed so utterly unafraid of breaking the rules. They were the three most beautiful novels I'd ever read, and lit some still-burning fire in me, a years-long desire to find and if possible to create the beautiful work. For me, this 'beautiful work' is text (novel, film, music), densely gorgeous, rich, lush, twisted, wise, created by some courageous artist who, at least in his art, is free.

After high school I stopped writing fiction altogether. I focused instead on mastering the arts of exposition and analysis, spending 7 years writing essays but never any fiction. It was in these years of drought that I discovered The God of Small Things and Moon Tiger. Neither ever left me. These novels reminded me (painfully at the time) of what prose can do that exposition cannot: render the whole world truthfully and beautifully. The worlds that Roy and Lively wrote were so familiar to me in their color, texture, grief, joy. Somehow their portraits touched my deepest memories of travel and made me again wish to create beautiful worlds of my own. At the same time I rediscovered my childhood love of photography, which sort of pushed me toward wanting to capture the beautiful world however I could. The two books, together with my Canon 5D Mark 3, continue to push in that direction.


You spend your life moving between places—Rome, New Delhi, New York—a theme that plays a key role in Ghana Must Go. What attracts you about voyages?

I have never stopped adoring the character I loved most as a girl: the beautiful wanderer. My favorite stories to read and to write before high school were fantasies: warriors flying around on dragons, princesses, magicians, wise women, journeyers. There was always that same story: someone wandering in search of something. I always loved it. In adulthood I found my way to Ocean Sea by Alessandro Baricco and Eucalyptus by Murray Bail, and felt that I'd found the most precious things of all: adult fairy tales, grown-up wanderers. I knew early on that I wanted to write fantasy, magic realism, but only after reading those books could properly imagine how.

Your writing is richly visual, but also rhythmic. Has music been a source of inspiration to you as a novelist?

Music has been as important as literature in this regard. Studying cello and piano taught me to write in rhythm, to receive words with meter, to compose in bars. I also developed a taste for a certain type of music: minor key, full of pathos. It's just what I liked best, what I wanted to listen to, how I wanted to play: Brendel playing Sonate Pathetique, Rachmaninoff playing himself, Danse Macabre. A Russian teacher Marina once scolded me for playing the piano adaptation of Grieg's "Ase Tod" perfectly but without pathos; I think of her often while writing. "The king has died," she cried. "The king is dead! You have to play these first chords as if you grieve his death." In some strange way, learning to play that way taught me to write that way, too. It's nothing I give much thought to while it's happening, but I can always see it after: Marina taught me to, demanded that I play not just the notes but the grief.

Who have you discovered lately?

In music, Susan Lewis, who runs Alicia Keys' production company (for whom I adapted a screenplay), alerted me to the genius of Elle Varner. Adore. I'm also presently smitten by Michael Kiwanuka, Meleni Smith, and the simple throwback 90s-style love songs of The Damon Hamilton Project. In art, the brilliant Frenchwoman Laure Prouvost can do no wrong in my eyes, and in letters: Chiara Barzini, NoViolet Bulawayo [We Need New Names is a Summer '13 Discover pick. -Ed.], and Hannah Kent.
Cheers, Miwa
---

Miwa Messer is the Director of the Barnes & Noble Discover Great New Writers program, which was established in 1990 to highlight works of exceptional literary quality that might otherwise be overlooked in a crowded book marketplace. Titles chosen for the program are handpicked by a select group of our booksellers four times a year. Click here for submission guidelines.