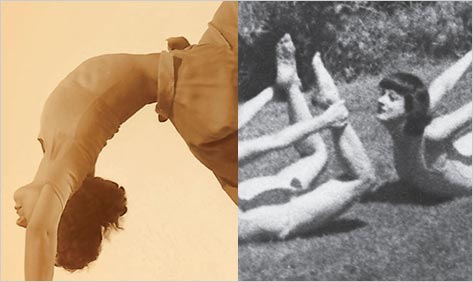 I'm sure I'd been told that my 3-year-old son's preschool offered yoga, but I had forgotten until one day, several weeks into the school year, when he plopped down on the living-room rug, twisted himself into a passable lotus position, took in a deep breath, and uttered a drawn-out "peace" on the exhale. Journalist Stefanie Syman opens The Subtle Body: The Story of Yoga in America with a moment that provided her with her own proof of yoga's triumph over our culture: the inclusion of yoga workshops at last year's White House Easter Egg Roll.
"Our goal today is just to have fun," Michelle Obama said in her welcoming remarks. "We've got yoga, we've got dancing, we've got storytelling." The fact that this review covers two new releases on the topic is further testament to the current domination of yoga, which has endured long periods of ill-repute throughout our history.
While Syman's admirable book takes a broad look at yoga's journey to the mainstream, Robert Love's The Great Oom: The Improbable Birth of Yoga in America focuses on a riveting slice of that story, tracing the life of Pierre Bernard, the freethinking yogi who, though largely forgotten today, was a fixture in the tabloid press in the early 20th century for operating a notorious ashram in Nyack, New York.
Syman devotes a chapter to Bernard, but she begins her exhaustive survey further back, with Emerson's immersion in Indian thought and Thoreau's attempts at meditation. Although the yoga practiced on the White House lawn was "sanitized, sanctioned, and family-friendly," she writes, yoga has always had elements of "the ecstatic, the transcendent, the overtly Hindu, the possibly subversive, and even the seemingly bizarre." When she describes Swami Vivekananda's arrival in the U.S. from India at the end of the 19th century, electrifying the World Parliament of Religions in Chicago, one of Syman's themes emerges, that of yoga as a cause of moral panic. Two of Vivekananda's wealthy female followers founded a spiritual retreat in Maine to practice yoga and devote themselves to his teachings, bucking convention, to say the least. Journalists smelled a good story, and their sensational claims linked yoga to insanity and the collapse of the family, charging that simple postures and breathing exercises were bait, luring women to participate in shocking secret rituals. Pierre Bernard and his half-nephew Theos Bernard, who also taught yoga to socially prominent women, faced similar accusations (one man sued Theos for causing his wife's "complete mental derangement").
That narrative begins to shift during the mid-20th century, when yoga—here generally understood as Hatha yoga's physical postures, breathing, and meditation—took Hollywood by storm, thanks in part to renowned teacher Indra Devi, who counted Greta Garbo and Gloria Swanson as students. In 1953's Forever Young, Forever Healthy, she "excised most of [yoga's] Hindu and Tantric elements," reducing it "to a set of health exercises." Yoga was now safe for the American housewife. But "yoga's phases have a rhythm," Syman observes, "one that loosely follows the dialectics of the broader culture." Thus in the '60s, Timothy Leary and Richard Alpert "stole yoga from the health seekers" and restored its spiritual elements. In a fascinating chapter on the counterculture, Syman describes how for some, yoga was a gateway to drugs, while for others, like the Beatles, drugs were a gateway to yoga. Alpert, who rechristened himself Ram Dass, believed that ideally, "you graduated from acid to yoga."
In this way, yoga cycles in and out of popularity in Syman's winding account. The '80s were a low point, the author says; many of the gurus influential during the previous decade had been disgraced, and Reaganism, cocaine's displacement of psychedelics, and the advent of AIDS made yoga "far too hopeful an endeavor for this generation." She credits Bikram Choudhury and Sri K. Pattabhi Jois, both of whom came to the U.S. from India in the '70s, with yoga's most recent resurgence. They put the religion back in yoga, and this time around, Syman argues, "we could accept intense religiosity as long as it was directed at something concrete and universal: our bodies."
The Great Oom shares some themes with The Subtle Body, particularly in what Love calls yoga's transformation from "a loathed 'Oriental' practice into something vigorous and healthy and American." But reading it is an altogether different experience. Syman, herself a yoga devotee, sometimes strains to tame her unwieldy topic, while Love, a journalist who stumbled upon a good story—he and his wife moved to Nyack and wondered about the "mystical symbols" on the fixtures throughout their new home, leading them to learn about the former "yoga club" down the hill—presents Pierre Bernard's colorful life with novelistic flair.
Bernard, born Perry Arnold Baker in Leon, Iowa in 1876, moved as a teenager to Lincoln, Nebraska, where he met a Syrian Indian yogi named Sylvais Hamati. Baker, who never completed grade school, studied with Hamati for years, later referring to "the transmission of wisdom from Hamati to himself as nothing less than a 'blood transfusion.'" The two moved to San Francisco, where Baker, now calling himself Pierre Bernard, began to teach hypnotism and yoga. His adaptation of Hindu Tantrism became popular with students, but his way-ahead-of-his-time views on sexuality led to continual investigations by the police.
Eventually, Bernard landed in New York City, where he continued to attract followers with a new American yoga that, Love writes, combined "hatha's postures and breathing with a keen respect for the powers of sex and desire." He aroused suspicion on the east coast just as he had on the west, and in 1910 he was charged with having "inveigled and enticed" a young female student "for the purpose of sexual intercourse." The charges were dropped, but not before Bernard had spent three months in jail. Eventually he and his followers—who now included a couple of Vanderbilt heiresses and one Blanche DeVries, who would become his wife and partner—regrouped in Nyack, in part to escape harassment by the police and the press, whose nickname for Pierre, the Omnipotent Oom, had already become "shorthand for any spiritual charlatan with a taste for the good life."
With the help of Vanderbilt money, Bernard became the biggest landowner in Nyack. The American ashram he created, eventually called the Clarkstown Country Club, combined "yoga, deluxe accommodations, and homegrown entertainment." Love does a wonderful job describing life at the fashionable and lavish CCC, which, until its Depression-era decline, was frequented by celebrities and included not just yoga but trained elephants, a baseball diamond, tennis courts, a swimming pool, a theater, a music school, a farm, and an airport.
As for what it all meant, Love offers this: "Many strands of the cultural revolution that shaped American life in the latter half of the twentieth century can be traced back to the Nyack of the 1920s. Here Bernard presented in a single, unique setting a preview to today's interests in Eastern philosophy and yoga's healing properties, our preoccupation with celebrity, diet, sex, health, and the human body." But as for the eccentric and mysterious Bernard himself (who died in 1955), Love is less clear. He concludes the book by asking, "Was Bernard a fraud or a genius?" While noting that he was "materialistic, arrogant, selfish, and, worst of all, he profited greatly from his spiritual pursuits," the author doesn't ultimately come down firmly on either side. Perhaps the most apt description of Bernard comes from an anonymous Nyack resident interviewed by the young Joseph Mitchell, then writing a newspaper article on the Omnipotent Oom: "Nobody knows if he's got religion, but everybody knows he's got money."