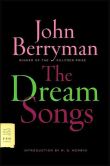 On this day in 1972 American poet John Berryman committed suicide at the age of fifty-seven. His 77 Dream Songs won the 1964 Pulitzer, and the writing of some 300 more over the next eight years earned Berryman international fame, but his personal problems kept pace. These seem to stem from the severe trauma of his father's early suicide, but whatever the cause, living became a volatile and destructive mix of compulsions — work, alcohol, sex, and four packs a day.
Berryman hated and scoffed at the label of "confessional poet," but he wrote openly about all his troubles, and sometimes optimistically: when asked in 1970 about his poetic direction, he talked of his "secret hope" that he might be visited by something like Beethoven's deafness or Milton's blindness, thus becoming the "extremely lucky" artist "who is presented with the worst possible ordeal which will not actually kill him." The poems written over the last eighteen months reveal the raw, downward trail of his unluck, and a gradual giving-up on religion, writing, teaching, marriage and sobriety. From the poem "Eleven Addresses to the Lord," written in a detox center in May, 1970, comes the pledge "Under new management, Your majesty / Thine." Lines written during another stay in rehab that autumn are more down-to-earth: "It is, after all, very simple. / You just never drink again all each damned day." These lines from the spring of '71, Berryman back teaching at the University of Minnesota, reflect a further downward turn:
My Lord, I'm glad we don't

on x or y depend for Your being there.

I know You are there. The sweat is, I am here.
And these lines are from a few weeks before his suicide — Berryman dry now for eleven months but in despair after having judged his novel-in-progress, Recovery, worthless and his research book on Shakespeare pretty much the same:
O yes, I've had to give up somewhat here,

illusion on illusion, big books long labored, a power

of working wellness to some, of securing this house,

the cocktail hour, —

but I am not without a companion: there's left Fear.
Berryman started drinking again on January 5th and jumped from Minneapolis's Washington Avenue Bridge two days later.
---
Daybook is contributed by Steve King, who teaches in the English Department of Memorial University in St. John's, Newfoundland. His literary daybook began as a radio series syndicated nationally in Canada. He can be found online at todayinliterature.com.