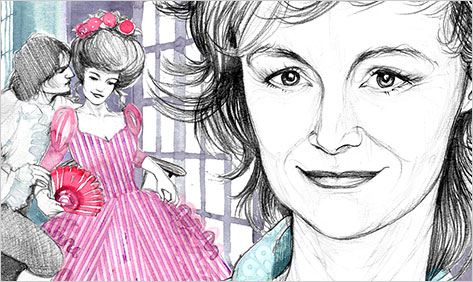 These days, reputations can be lost any number of ways — a welter of tweets, for example, if one happens to be a congressman with a propensity for photography. Succumb to the lure of desire, revenge, or wealth, and one's "good name," in that old-fashioned phrase, can disappear in the aftermath. The phenomenon has had a sad longevity; only the way we share our gossip is modern. Loss of reputation could ruin a life 200 years ago as readily as today.

Each of the following five novels turns on a pressure point in which a character has lost everything, or stands to lose everything, due to a dangerous impulse. The problem, to paraphrase Mae West, is that one can generally resist anything…except temptation. Romance novels are particularly well suited to an exploration of the consequences of loss of reputation: in fact, one could argue that the genre specifically requires that its characters come to understand what matters more than the world's material concerns.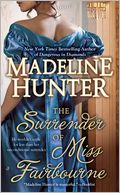 The heroine of Madeline Hunter's The Surrender of Miss Fairbourne is a merchant's daughter whose father has just died, leaving his prestigious auction house in her hands. Emma is perfectly capable of running the auction house herself, if only she weren't a woman. Enter her father's silent partner, Darius, arrogant Earl of Southwaite. Emma is bent on going where no lady has gone before (into the business of fine art), but Darius is equally intent on keeping her in what he considers her place: his bed. He does offer to marry her after a wildly sexy seduction, but Emma refuses: she doesn't consider her reputation to be reason enough to marry. The most romantic twist in Hunter's tale comes after a plot involving smugglers, stolen art, and the rescue of Emma's long-lost brother. By then, Darius's good name is compromised, not Emma's, and if he cares for his reputation at all, he will avoid her at all costs. But he has learned that Emma is right, and reputation is unimportant: "When a man thinks of a woman the way I think of you, when he loves a woman the way I love you, he marries her."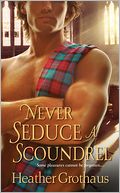 Heather Grothaus's Never Seduce a Scoundrel opens in 1277, with the soon-to-be-nun Cecily Fox surrounded by a dancing crowd of drunken revelers. The scoundrel of the title is Lord Oliver Bellecote, a handsome ruffian who saunters up and laughingly asks Cecily's sister Sybilla to marry him…and when she says no, suggests they sleep together instead. Sybilla mockingly offers up Cecily as a substitute, adding that Saint Cecily "would not have the likes of you wrapped up in the holy shroud itself." Humiliated and shaken by a secret feeling that had Olivier been offered to her, she would have taken him, holy shroud or no, Cecily sneaks out to an ancient ring of standing stones shrouded in superstition and magic. What happens at Foxe Ring, once Oliver is thrown from his horse and lands at her feet, is either the best dream she ever had or a nightmare. The plot of Never Seduce a Scoundrel is set up to look like a case of opposites attracting — but Oliver and Cecily are not so different. For all that Cecily is supposed to be saintlike, in reality, she is wry, and funny, and deeply sensual. Similarly, the roguish Oliver is an honorable man, torn between grief for his dead brother and inconvenient lust for Saint Cecily. This is a very sweet story; when Cecily finally decides she'd rather be a "harping wife" than a "saint," Oliver tells her that in reality she's the scoundrel, and he's not so far off.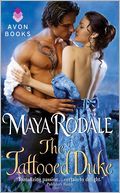 The hero of Maya Rodale's The Tattooed Duke is another scoundrel, and one who's famous for it. Sebastian Digby, the Duke of Wycliff, is a rakish adventurer who has returned home after years spent abroad, supposedly slaking his lust in sultans' harems. Miss Eliza Fielding is one of a throng of reporters desperate to uncover Sebastian's secrets, so that she can print them in The London Weekly. Disguised in a plain dress and holding fake letters of reference, Eliza takes a job as a maid in Wycliff House. The position has unexpected benefits, as when she has to bring the duke a drying cloth; she's able to see the magnificent tattoos that cover his chest and upper arms. Her story about the brooding, reclusive, tattooed duke is an instant success. Unfortunately, as she grows close to Sebastian and uncovers his secrets (which she promptly publishes), she finds herself falling in love. Yet their situation is more and more impossible: Sebastian is penniless and has to marry the nefarious Lady Shackley, and Eliza's success is such that there is a £10,000 reward for discovery of her real name. The Tattooed Duke is a true page-turner. Secret after secret unravels between the two, complicated by the fact that Eliza must deliver her scandalous columns detailing the duke's exploits. Bu the time this intricate, satisfying story finally falls into place, you'll have come to adore these characters. They know what it means to be correct — and yet never manage it.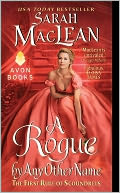 The hero in Sarah Maclean's A Rogue by Any Other Name has also lost his name and estate, but through gambling. Ten years before the novel begins, the Marquess of Bourne threw away his inheritance during a card game. Michael has rebuilt his fortune by means of a scandalous, exclusive gaming hell and is bent on regaining his family estate and seeking revenge against the man who fleeced him, even if he has to marry the oh-so-proper Lady Penelope Marbury. But once he steals sensible, sensual Penelope away in the middle of the night, forcing her father to agree to the marriage or see his daughter ruined, Michael comes to the painful realization that revenge is not an emotion by which to structure one's life. Rogue is a deeply romantic novel that reminded me of Lisa Kleypas at her best. When Michael finally realizes that he must choose love for the woman he calls Sixpence over revenge, I couldn't stop smiling. "I realize that I am unworthy of you," he tells Penelope, "But I swear to you, I shall do everything I can to make you happy, my love." (An aside: I took this into the kitchen and read it aloud to my husband. He rolled his eyes, which shows precisely why more men need to read romance.)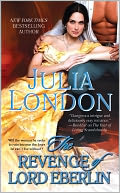 Count Eberlin, the hero of Julia London's The Revenge of Lord Eberlin, returns to West Sussex after many years, with a mission akin to Michael's: revenge for the loss of his good name, which, in this case, was lost along with his father's life. When Tobin was just a boy, his father was hanged for stealing jewelry from the Countess of Ashwood. The jewels were never recovered, since Tobin's father never had them in the first place, but the man was executed on the evidence of eight-year-old Lily Boudine, the countess's pampered ward. Michael is now rich and titled; Lily has inherited the countess's title and estate. In no time, Tobin manages to take Lily's lands and tenants. Finally, when he dams the river so that her household has nothing to eat, she storms into his house and demands that he stop, whereupon he offers a bargain: he will suspend his revenge only if she allows him to "ruin" her properly: "I get you and you get…your precious fish." Of course, he gets what he wants. It's a shock to his system when he discovers that "having" Lily is not good enough, and that revenge is not worth it: what he truly wants is marriage to his greatest enemy. London's novel sets up a deeply dramatic clash between Lily and Tobin, who fall in love against all odds. Revenge makes clear the stakes in all five novels; Lily tells Tobin that she feared losing everything if she accepted his proposal — her title, her estate, her place in society — until she realized that there are very few things in life that are worth having: love, and the kind of belonging one only finds when beloved.
---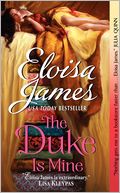 Eloisa James's latest novel, The Duke Is Mine, is out now!
Please do check out Eloisa's past columns in the Archives, and if you'd like to get her reaction to romances as she reads them, follow her on Facebook or Twitter.
For sneak peeks at all Eloisa's romances, please visit her web site at www.eloisajames.com.