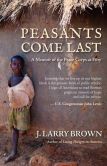 Fulfilling one of his most publicized campaign promises, President John F. Kennedy created the Peace Corps on this day in 1961. Over the past half century, 210,000 volunteers have gone to 139 countries, devoting two or more years to, as the Corps' unofficial slogan puts it, "the toughest job you'll ever love."

Explanations of what makes the job both tough and rewarding can differ. As suggested by the title of Elizabeth Cobbs Hoffman's All You Need Is Love: The Peace Corps and the Spirit of the 1960s,Kennedy's initiative had a built-in Pollyanna principle and was perhaps more than just a flower child of its times:
Paradoxically, when the United States has been at its most expansionistic, it has been most subject to idealism. The exercise of power brings forth a compensatory impulse. The Peace Corps emerged at the height of U.S. military strength. One conclusion that might be drawn is that humanitarianism is a handy fig leaf for naked ambition. Another conclusion might be that, desirous of but uncomfortable with power, the nation is driven to find ways of convincing itself that its power is beneficial. Exploring this phenomenon might explain why the United States conducted the Vietnam War and founded the Peace Corps at the same time.
J. Larry Brown's Peasants Come Last (2011) takes aim at a different sort of Corps problem. A respected scholar and humanitarian, Brown was a regular volunteer in the sixties, then he served as assistant director of the Peace Corps during President Carter's administration; his book describes his third and surely last Corps posting, as country director for Uganda. "Bureaucracy in Peace Corps Washington is like the dark side of the moon," he vents, "everybody knows it's there but who knew there was so much of it." Brown was eventually fired for balking at a "constant demand from Washington for voluminous reports in impossibly short timeframes, micro-management to the hilt, directives sent from an inexperienced staff half our age telling us to do this and that," or nothing:
Got a goat project that could fall flat if the animals are not inoculated? Wait about a month. Got a community garden plot ready to go before the rains end. We may ship the money to you on time, or we may not. Got a clean water project to keep kids from getting cholera? Hope they can last another month drinking the dirty run-off.
---
Daybook is contributed by Steve King, who teaches in the English Department of Memorial University in St. John's, Newfoundland. His literary daybook began as a radio series syndicated nationally in Canada. He can be found online at todayinliterature.com.