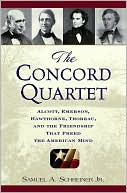 The first meeting of the Transcendental Club took place on this day in 1836. As explained by Henry Hedge, one of its first members, the club was an attempt to counter the "rigid, cautious, circumspect, conservative tang in the very air" at Harvard and Cambridge. Emerson, Alcott, and their circle met irregularly for the next four years, discussing a range of specific philosophical, religious, moral, and literary topics. Below, a famous passage from Emerson's Nature, published in the same year the club formed and throwing open a window to a fresh, Transcendental breeze:
In the woods, is perpetual youth. Within these plantations of God, a decorum and sanctity reign, a perennial festival is dressed, and the guest sees not how he should tire of them in a thousand years. In the woods, we return to reason and faith. There I feel that nothing can befall me in life, — no disgrace, no calamity, (leaving me my eyes,) which nature cannot repair. Standing on the bare ground, — my head bathed by the blithe air, and uplifted into infinite space, — all mean egotism vanishes. I become a transparent eye-ball; I am nothing; I see all; the currents of the Universal Being circulate through me; I am part or particle of God.
One of the younger Transcendentalists, the poet-painter Christopher Cranch, dared to poke fun at the Great Man and his sacred texts. One of Cranch's playful Illustrations of the New Philosophy pictures Emerson's "transparent eye-ball" ideal as a man in tails and top hat striding over the fields on towering, stilt legs, his head but a huge eyeball. Emerson's "This is my music — this is myself" is represented by Cranch as a man seated on a drum playing his long, flutelike nose.

As noted in Samuel A. Schreiner Jr.'s recent The Concord Quartet: Alcott, Emerson, Hawthorne, Thoreau, and the Friendship That Freed the American Mind, a biography of the club's most famous members, Transcendentalism had its groupies. Schreiner excerpts from Hawthorne's description in Mosses from an Old Manse of those who besieged Concord hoping to talk with (or at) Emerson, or even to join the club. Whether "young visionaries" or "grey-headed theorists," writes Hawthorne, these pilgrims came to Emerson with their ideas and projects "as the finder of a glittering gem hastens to a lapidary, to ascertain its quality and value." Emerson's beacon of intellectual fire "attracted bats and owls, and the whole host of nightbirds" — these sometimes, regretted Hawthorne, "mistaken for fowls of angelic feather."
---
Daybook is contributed by Steve King, who teaches in the English Department of Memorial University in St. John's, Newfoundland. His literary daybook began as a radio series syndicated nationally in Canada. He can be found online at todayinliterature.com.