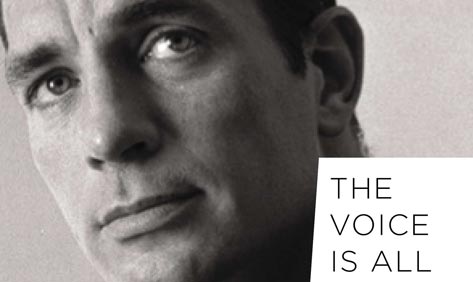 Truman Capote's famous verdict on Jack Kerouac carried a typically venomous sting: "That's not writing, it's typing." But as acidly memorable as that remark is, its aim was uncharacteristically off. Kerouac remains one of our most beautiful writers. On the Road sings the body electric of our lonely interstate and pilots Whitman's barbaric yawp into a heady new century. Farmhouses streaming by at night, apple pie in desolate diners. It was driven by its voice: a voice that felt like speaking, a sound that vibrated with yearning and a disarming musical clarity that still feels new, honest, and unadorned, even today. It wants to tell us something. For decades the line on it was that the voice was saying: Here, this is America.



In her remarkable new biography, The Voice Is All, Joyce Johnson shows that in fact that voice was saying: Here, this is how I became an American. Drawing on far better access to Kerouac's journals and papers than a biographer has ever had, she peels back the layers of mythology that have encrusted themselves to Kerouac to reveal a man wracked with contradictions, a man who hated and fought these divisions desperately, until he found a sound that could make a haunting American music out of embracing them.



Kerouac had reason to be tongue-tied. As Johnson reminds us, he was born in Lowell, Massachusetts, as Jean Louis Kerouac to a French-Canadian mother and a hard-drinking father on the decline. French was his first language. The Kerouacs were blue-collar and got poorer with each year. By the time he was seventeen Kerouac had lived in eleven apartments. All of his mother's teeth fell out after his brother died. Football, not writing, was Kerouac's ticket out of this sinkhole. It earned him a scholarship to Horace Mann prep school and from there on to Columbia.



Previous biographies have often focused on Kerouac's time at Columbia as the period where he would make the friendships — with Allen Ginsberg, William S. Burroughs, and Lucien Carr — that would sustain him as a writer and form the nucleus of the so-called Beat Generation. In Johnson's telling it was Kerouac's rejection of Columbia, and in fact his ability to distance himself from these new friends, that allowed him to write. At one Fourth of July party at Ginsberg's apartment, the poet setting off firecrackers in ashtrays, future Beat writers packed to the walls, "Jack felt part of nothing around him and only wished he could be elsewhere." 



His determination when he was alone was phenomenal. In 1942, when he'd dropped out of Columbia again, he holed up in the Lowell library and, using H. G Wells's multivolume Outline of History, planned to work his way through the entire history of the planet. Even as he began to consume larger and larger amounts of alcohol or Benzedrine — which he at times manufactured from asthma inhalers — he wrote prodigiously: in his diary, in short stories, in novels written in a matter of months that he then revised over the course of years. On the Road, far from being written in one coffee-fueled burst, was rewritten from scratch half a dozen times.



The drinking must have taken a toll, though. Johnson, who was Kerouac's lover in the two years leading up to the publication of On the Road, avoids labeling him, but he was clearly a hopeless alcoholic. This biography, moving from month to month of his life with startling details, sometimes reads like the tale of 1,001 binges. Kerouac goes AWOL from a Merchant Marine voyage and winds up in the living room of an Inuit man. He wakes up on the street in Washington, D.C. He gets into an argument over Proust in the West End Bar and sets fire to his hand.



Kerouac's mood swings, as Johnson reveals, quoting from his journal, were violent, sudden, and sometimes paralyzing. He once took up with a woman in Colorado and went to an amusement park with her and her son, a park "so forlorn and sinister that he fell into a two-day depression afterward." Only once, however, does Johnson wonder how much of Kerouac's erratic emotionality was due to alcohol. And this is probably right. After all, Kerouac kept writing. He always returned to his mother, moving her around the country in an effort to recreate a sense of home. He kept drafts and revised, working to a daily word count. He could only take so much of the city. As Johnson writes, "No one can have ecstasy or epiphanies all the time." 



The final pages of this book take on the urgency of a thriller reaching its climax. So closely does Johnson track Kerouac's evolution as a writer that one senses the breakthrough around the corner. The sketches written and abandoned; the letters he receives from Neal Cassady stoking his momentum. On the Road was built out of a series of failures and rejections. At one point Kerouac even writes in French and translates himself back into English, and there, in the gap between past and present, between here and there, he finds the sound of his voice. The journey, this essential biography makes clear, was a lot longer and more arduous than we ever knew.