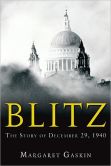 The London Blitz began on this day in 1940 and continued, in the city and throughout the country, for the next eight months. The defiance demonstrated by ordinary citizens throughout England became an inspiration to the nation and its allies. Margaret Gaskin's Blitz (2011) recreates how ordinary Londoners spent December 29, 1940, the day when the Daily Mail's Herbert Mason took perhaps the most iconic photo of the war, showing St. Paul's still standing amid a cloud of smoke and destruction:
On that distant alien night in that distant alien city, built as much of stories as stones, bespectacled bank clerks and pale drapers' assistants, lads on push-bikes, tea ladies in hats, elderly clerics and mitteleuropean refugees, librarians, secretaries, Cockneys and Colonials, fought alongside London's firemen, police and rescue workers, professional and volunteer, to write their own page in their city's long history.
---
Daybook is contributed by Steve King, who teaches in the English Department of Memorial University in St. John's, Newfoundland. His literary daybook began as a radio series syndicated nationally in Canada. He can be found online at todayinliterature.com.