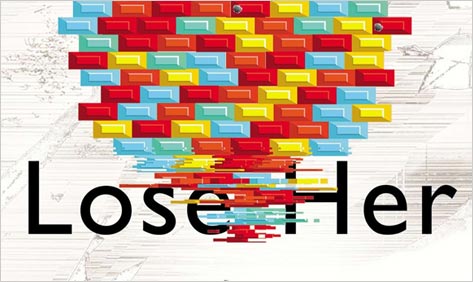 Recently, Junot Díaz sat down with his old friend (and fellow novelist) Francisco Goldman to talk about love, death, and the mysteries of fiction. To read their conversation, click here. — The Editors
As a critic, I've come to appreciate less-prolific writers whose books gestate over years and aren't released until they're fully cooked. In Mae West's words, Junot Díaz is "a guy what takes his time." After the 1996 publication of his highly acclaimed debut collection of stories, Drown, he took eleven years to complete The Brief Wondrous Life of Oscar Wao, which won both the NBCC and Pulitzer prizes. Now, five years later, he's produced a new book of stories, This Is How You Lose Her, which will have to tide us over until his next novel.

I am not going to make the case that Díaz's stories are as wondrous as his novel, but few books are. If you haven't read Oscar Wao, Díaz's vibrant, Spanglish-spangled epic about a cursed, overweight Dominican-American nerd growing up in the industrial wastelands of New Jersey who's obsessed with unattainable women and apocalyptic science fiction, go for it. It's not necessary to tackle the novel before his stories — but it is essential reading. What elevates Oscar Wao from really good to truly great is that it works on both the intimate, personal level and the broader, historical, political level: In much the way that the burning of Smyrna and the Detroit riots underpin Jeffrey Eugenides' tale of mixed sexual identity in Middlesex, and the Soviet revolution forms a backdrop to Boris Pasternak's tragic story of thwarted love in Dr. Zhivago, the Dominican Republic's devastating twentieth-century history under Trujillo's dictatorship reverberates through Oscar Wao's multigenerational saga.

The stories in This Is How You Lose Her, however appealing, can't compete with that sweeping historical resonance, but they do offer a fresh hit of Diáz's loose-limbed, inventive, profane, hip-hopping prose — plus his wise and witty slant on what he has referred to as a generation of hypereducated poor kids of color. You can hardly ask for a better story collection for those who complain that short fiction thwarts their yearning for immersive reading experiences. This Is How You Lose Her pivots around a single character, Yunior, Díaz's charming, roguish, literary, lovesick, cheating alter ego, who will already be familiar to readers of his earlier books — lending a quasi-novelistic continuity to this collection. Even more alluring, Díaz's subject is well-nigh irresistible: the devastating power of love in its many incarnations, whether romantic, reciprocated, rebuffed, maternal, passionate, deceitful, obdurate, illicit, or inappropriate.

As for those who disdain short stories as little more than training wheels for novelists, the truth is that at their best — Chekhov, Cheever, Munro, Díaz — short stories pack more bang per word than just about anything but a sonnet or a telegram. Their more manageable size also makes them ideal for book club discussion. Focusing on just one or two stories in greater detail could be a real boon to members chronically unable to make it through the month's selection in time for the next meeting — as so often happens in my group.

Of the nine stories, most of which first appeared in The New Yorker, several return to themes from Yunior's childhood, including the difficult death of his sexually smoldering older brother after landing "on cancer planet." (In fact, Díaz's own brother beat the odds to survive a similar cancer.) "Invierno" is a sobering tale about arriving in New Jersey from the Dominican Republic at nine (Díaz arrived in late 1974, at age six), to a wintry world that's frozen solid and harshly ruled by a dictatorial, cheating father whose punishments include making Yunior and his brother Rafa kneel on the cutting side of a coconut grater until they bleed and whimper. "Otravida, Otravez," an exercise in literary empathy written from the perspective of his father's other woman, provides a refreshing break from Yunior's point of view.

But the dominant theme of this collection is the aftermath of infidelity — usually from the cheater's perspective — and how love and longing so often outlive the relationships on which they were founded. "The Sun, the Moon, the Stars" channels Yunior's winsome voice: "I'm not a bad guy. I know how that sounds — defensive, unscrupulous — but it's true. I'm like everybody else: weak, full of mistakes, but basically good. Magdalena disagrees though. She considers me a typical Dominican man: a sucio, an asshole." Magda discovers Yunior's perfidy in a letter from his "homegirl." Yunior continues: "Anyway, I won't bore you with what happens after she finds out. The begging, the crawling over glass, the crying. Let's just say that after two weeks of this, of my driving out to her house, sending her letters, and calling her at all hours of the night, we put it back together." Alas, broken trust is like Humpty Dumpty. Even a vacation in Yunior's beloved Santo Domingo can't repair the damage. But what this rueful tale is really about is Yunior's blockheaded inability to recognize this, blinded not so much by desire as by his implacable yearning for unconditional love.

Alma is another girlfriend who tires of Yunior's cheating ways, leaving him heartsick and baffled. Her tale is narrated in the tricky second person, which can be a gimmicky way to involve a reader but which Díaz handles with aplomb. The story opens, "You, Yunior, have a girlfriend named Alma, who has a long tender horse neck and a big Dominican ass that seems to exist in a fourth dimension beyond jeans. An ass that could drag the moon out of orbit. An ass she never liked until she met you." So, Yunior objectifies women outrageously — as unapologetic in his lusty machismo as Jim Harrison's roguish, horny half-Chippewa free spirit in his Brown Dog stories. Everything is hunky-dory until, eight months into the relationship, Alma reads about "this beautiful freshman girl named Laxmi" in Yunior's journal. And "Instead of lowering your head and copping to it like a man," Yunior dissembles: "Baby, you say, baby, this is part of my novel." Díaz breaks to a new paragraph for the clincher, which also gives his collection its title: "This is how you lose her."

The question, you may well ask, is why is Yunior so beguiling? How does he attract all these smart women, and why doesn't he lose us in his rake's progress? In the first story, Yunior owns up to his infidelity, and he loses Magda. Perhaps older but no wiser, he lies to Alma about Laxmi, and then loses her, too. What's a fellow to do? Fidelity appears not to be a serious option. Both stories recall Yunior's incorrigible, ultimately relationship-ending infidelities to Oscar's beloved sister Lola in Díaz's novel. Is Yunior a sympathetic cad because he never gets away with it, or because he acknowledges his caddish behavior and is as hurt by his shenanigans as his girlfriends? And how does Díaz manage to keep returning to the same narrative track without trying our patience? The answer, in brief, lies in his energetic, tender, funny, ever-insightful prose.

Yunior is just as baffled and miserable years later in the wonderful final story, "The Cheater's Guide to Love" — a twisted sort of how-to and a fitting sequel to the conniving, "How to Date a Browngirl, Blackgirl, Whitegirl, or Halfie" from Drown, also written in the second person. ("She'll say, I like Spanish guys, and even though you've never been to Spain say, I like you. You'll sound smooth.")

"The Cheater's Guide to Love" could well have provided another apt title for this book. It opens with yet another cover blown: "Your girl catches you cheating. (Well, actually, she's your fiancée, but hey, in a bit it so won't matter.)" This time, Yunior's email has given him away — fifty different girls over the course of six years. "Maybe if you'd been engaged to a super open-minded blanquita you could have survived," the barely repentant roué comments. But no such luck. "She'll stick around for a few months because you dated for a long long time. Because you went through much together — her father's death, your tenure madness, her bar exam (passed on the third attempt)." Right. But here's the real reason, which explains why Yunior monitors the vicissitudes of his heartbreak over five years: "because love, real love, is not so easily shed." Put differently: "The half-life of love is forever."

It takes Yunior years, but it's a major epiphany, enough to fuel his writing — including the very stories we're reading: "In the months that follow you bend to the work, because it feels like hope, like grace — and because you know in your lying cheater's heart that sometimes a start is all we ever get." The half-life of prose like this, prose that explores and transcends human weakness, should be forever, too.

Recommendations for related reading? If you're new to Díaz, dive into Drown and The Brief Wondrous Life of Oscar Wao. And while the literature of infidelity — from Flaubert and Tolstoy through Updike — is oceanic in scope, two short story collections about love and cheating hearts that you might want to dip into are Raymond Carver's What We Talk About When We Talk About Love and Laurie Colwin's Passion and Affect.