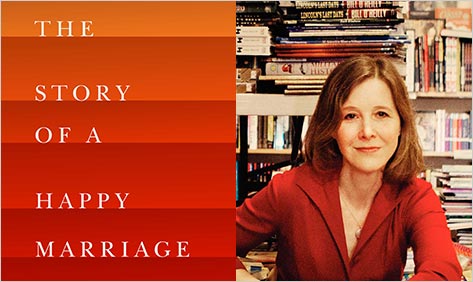 Ann Patchett's This Is the Story of a Happy Marriage takes the cake for the most inviting title of the season. This collection of mostly personal essays addresses a range of subjects sure to spark book group discussions, including the generational fallout of divorce, which fed into Patchett's early decision not to have children; the parallels she flags between her fiercely protective love for her dog and her grandmother at the end of their long lives; and her inadvertent emergence as a spokesperson for independent bookstores.

About that title essay, it is actually a story of how a family legacy of unhappy marriages and divorce — from her great-grandparents' down to her own — left Patchett so wary of the institution that she fended off proposals from her second husband for eleven years. She finally relented when she thought he might die of what turned out to be a misdiagnosed heart ailment. She writes that her marriage to Karl VanDevender, a Nashville doctor sixteen years her senior, is "the great joy and astonishment of my life." Among its surprises: "It was like finding another wing in a house you had happily lived in for years. It was simply a bigger love than I had imagined."

In her graceful, forthright introduction, Patchett tells how she supported herself with freelance journalism for a variety of publications during the early years of her career, because her short stories and novels "were no more capable of supporting me than my dog was." Working her way up from Seventeen and Bridal Guide to Vogue, The New York Times, and The Atlantic Monthly, she has continued to write nonfiction articles even after the success of Bel Canto and State of Wonder, because she enjoys the constraints, especially in contrast with the freedom of fiction. To explain, she enlists a metaphor that may well be a byproduct of her research for Bel Canto: "Like a soprano's boned corset, the built-in restrictions provided both support and something to push against."

Patchett acknowledges that her book "bears the stamp of a writer who got her start in women's magazines: it is full of example and advice." It also bears the stamp of someone writing from the vantage point of success. With several bestsellers under her belt — not to mention the happy relationship of the title — Patchett obviously feels comfortable enough to share some of her mistakes (most notably her brief, disastrous first marriage); glimpses of the writing life (including book tours and unusual research junkets); and tips on what's worked for her (a trusted reader, and denying the very possibility of writer's block). Fortunately, even "The Getaway Car," a long "Practical Memoir about Writing and Life," which offers few unique insights, is sufficiently down-to-earth to avoid egregious smugness. (Example: "No one should go into debt to study creative writing. It's simply not worth it.")

Several essays relate to Truth & Beauty, her searing memoir about her intense seventeen-year friendship with the late writer Lucy Grealy — whose own powerful memoir, Autobiography of a Face, chronicled her grueling battle with a childhood cancer that obliterated her jaw. They met in their first year at Sarah Lawrence College and went on to study writing at the University of Iowa together. In her 2005 Convocation Address for The Miami University of Ohio, Patchett considers the differences between fact and fiction and notes, "Both Autobiography of a Face and Truth & Beauty are books about how much compassion is needed to get through a life. They are also books about the value of friendship."

The following year, Patchett sounded a similar note in her Convocation Address to first-year students at Clemson University in South Carolina. But this time, she also had to defend Truth & Beauty against surprisingly virulent attacks from conservatives; they complained that it was a poor choice of required reading for incoming students, because they found both Grealy's life and her close friendship with Patchett unwholesome. Somewhat redundantly, this volume includes a recap of the brouhaha and a summary of Patchett's response, followed by her actual speech. She eloquently pushes back, stressing the importance of friendship and urging students to "go to the primary source to make your decisions…it is never enough to rely on other people's ideas."

The best essays are weighted toward the back of the book and showcase the centrality of compassion in Patchett's life. She is clearly a born nurturer, always taking care of someone — whether Lucy, her grandmother, her beloved dog, or the now-aged nun who determinedly taught her to read in third grade. In "The Mercies," published in Granta in 2011, she writes movingly about the pleasure of lavishing delicacies from Whole Foods on Sister Nena, who at seventy-eight still holds fast to her vows of poverty, obedience, and service.

Patchett's devotion to her grandmother is similarly uplifting. As the old woman descended into dementia, instead of lamenting the loss of the person she'd grown up loving, "I resolved to love the woman I had."

The lessons gleaned from her divorce are equally clear-eyed. When she was indecisive about leaving her miserable, ill-advised first marriage, a friend asked: "Does your husband make you a better person?… It's not more complicated than that…. That's all there is: Does he make you better and do you make him better?" How's that for a bar for assessing relationships? Surely grist for the book group mill there.

An intriguing aspect of this volume, which was written piecemeal, for various publications, is watching how Patchett's telling of some stories change over time. After several cursory accounts of her divorce in earlier essays, in "This Is the Story of a Happy Marriage," written for Audible Originals in 2011, Patchett reveals an affair begun at Yaddo that enabled her to leave her first husband. Her confession opens the way for this lovely leap: "More than twenty years later I think: the house was on fire and I jumped out a window instead of going through the front door. How I left is not important to me now. I got out."

Similarly, in "Dog Without End," the 2012 tribute she wrote for Vogue, Patchett corrects an earlier "glossed-over version" of how she came by her dog, Rose. She confesses that she essentially snatched the foundling pup from a kid's arms. Why is she coming clean, we wonder? Guilt? Perhaps. But look how honesty heightens the impact of this zinger: "Sometimes love does not have the most honorable beginnings, and the endings, the endings will break you in half. It's everything in between we live for."

As for what to read alongside This Is the Story of a Happy Marriage, both Truth & Beauty and Lucy Grealy's Autobiography of a Face expand on some of the themes in this collection. Great fiction tends to sidestep wedded bliss — though the exception of Wallace Stegner's Crossing to Safety springs to mind. Courtship romances from Jane Austen onward involve working through various obstacles towards happy unions, but usually bring down the curtain before the first glow subsides. In nonfiction, happy marriages tend to be concentrated in spousal eulogies such as John Bayley's Elegy for Iris, Calvin Trillin's About Alice, and Julian Barnes's Levels of Life. All of which leads us to wonder, do happy marriages lack the requisite drama for great literature?