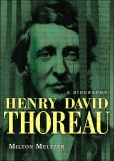 Henry David Thoreau was born on this day in 1817. If often a burr under the saddle of hometown Concord, Thoreau clearly needed the saddle as much as he thought the saddle needed the burr. His self-portrait in the Class Book of his year at Harvard makes this vow: "If I forget thee, O Concord, let my right hand forget her cunning…. To whatever quarter of the world I may wander, I shall deem it good fortune that I hail from Concord North Bridge." Six years later, having wandered as far as New York (a tutor to the children of Emerson's brother, William), he wrote home that the world seems like a "strange dream," and that "I should be content to sit at the back door in Concord, under the poplar tree, henceforth forever…." In the following journal entry, written just days after his thirty-fourth birthday, we see more of the same need for both getting distance from and staying close to home:
Now I yearn for one of those old, meandering, dry, uninhabited roads, which lead away from towns, which lead us away from temptation, which conduct to the outside of earth, over its uppermost crust; where you may forget in what country you are traveling; where no farmer can complain that you are treading down his grass, no gentleman who has recently constructed a seat in the country that you are trespassing; on which you can go off at half-cock and wave adieu to the village; along which you may travel like a pilgrim, going nowhither; where travelers are not too often to be met; where my spirit is free; …where earth is cheap enough by being public; where you can walk and think with least obstruction, there being nothing to measure progress by; where you can pace when your breast is full, and cherish your moodiness; where you are not in false relations with men, are not dining nor conversing with them; by which you may go to the uttermost parts of the earth…. That's a road I can travel, that the particular Sudbury I am bound for, six miles an hour, or two, as you please; and few there be that enter thereon. There I can walk, and recover the lost child that I am without any ringing of a bell.
---
Daybook is contributed by Steve King, who teaches in the English Department of Memorial University in St. John's, Newfoundland. His literary daybook began as a radio series syndicated nationally in Canada. He can be found online at todayinliterature.com.