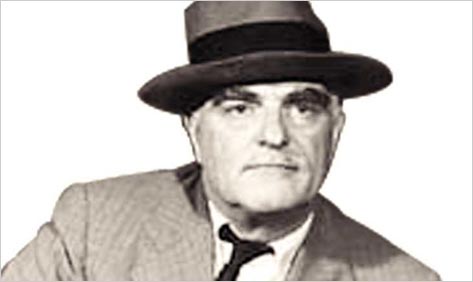 Writers' lives, though valuable in shedding light on their work, tend to make depressing reading. Something about the rigor and solitude of the calling seems to lead straight to depression and alcohol. My first reaction on finishing a literary biography is usually to heave a sigh of relief that I did not know the writer in question, however fascinating his output might be.

But occasionally there are exceptions, and one such is Thornton Wilder (1897-1975), whose life has been recounted with sympathy and discretion by Penelope Niven, author of previous works on Edward Steichen and Carl Sandburg. Although Wilder cut a prominent figure in the celebrity culture of mid-twentieth-century America, he was a consummately private man who kept his personal life to himself, and Niven has respected that trait — as far as a biographer can — while revealing much in a rather oblique manner, rather as Wilder himself did in his plays and novels. "Art," he wrote once, "is confession; art is the secret told…. But art is not only the desire to tell one's secret; it is the desire to tell it and hide it at the same time." Wilder revealed more about himself through the indirection of art than he did in his copious correspondence. He kept his sex life, if he had one, strictly under wraps and lived an essentially solitary life. His particular family drama, to which everything in his subsequent life related, lay in the tight-knit but ill-assorted nuclear clan that produced him; Niven has succeeded in creating a group portrait of the Wilder family that explains much about this brilliant, repressed, very good man.

Thornton Wilder was the second child in a family of five (he had an elder brother, Amos, and three younger sisters, Charlotte, Isabel, and Janet) born to a loving but agonizingly overbearing father of limited imagination and rigid Calvinist principles. Amos Parker Wilder, Thornton's father, micromanaged all of his children's education and early careers in a misguided certainty that he alone knew what was best for each of them. Not that his own career went smoothly; he spent several years in consular posts in China during Thornton's youth (Thornton was educated at a mission boarding school there, of the muscular Christian variety) but was not a success, being a poor administrator and, as a doctrinaire teetotaler, a less-than-popular diplomatic host.

He found it easy to approve of Thornton's older brother, Amos: "a manly lad," as he wrote a friend; "not only a good mind but a strenuous body." Thornton, one of those talented changelings who comes along occasionally to challenge conventional parents, was harder for him to accept: "the last word in high browism, a delicate, girl-playing, aesthetic lad in the early teens; this kind of boy making a one-sided, often unhappy, inadaptable man is familiar." The coded references to homosexuality stand out, though Wilder Sr. might not have been conscious of them; it's clear, though, that Thornton was both effeminate and artistic, qualities that appalled his father, who was afraid the boy was too dreamy to take care of himself: in a letter to Amos, he urged him on to excel professionally, warning him that "in the years to come you will have not only yourself but some of these others, especially hopeless Thornton, to finance."

Amos Wilder Sr. tried to turn his troublesome son into a man by sending him to a rough outdoor school, to various farms across the country to labor during the summers, and to Oberlin College. Thornton held out for Yale, lobbying against "Oberlin with its compulsory chapels and prescribed Scripture-class-work and its suggested Christian endeavors, Bible-class, YMCAs and Temperance Society," but he lost the battle; in the end, though, Oberlin proved a fertile ground for his literary and musical aspirations as well as for the short dramas he had already begun to write, and he was almost sorry when his father transferred him to Yale in his third year. The entry of the United States into the First World War drummed Amos Sr. into a patriotic frenzy; he was eager for his sons to prove their manhood in battle, and good son Amos went off to the trenches dutifully, returning with PTSD and health troubles that would plague him the rest of his life. Thornton's bad eyesight rendered him unfit for the front, though his father professed himself willing to procure him a waiver. In the end, he had an unremarkable few months in service Stateside before the Armistice was declared. Amos Sr. was philosophical. "Let us have a true man, a patriot, a Christian, a gentleman, Thornton dear, and all else shall be added."

Wilder spent a post-graduation year studying Latin, Italian, and archaeology at the American Classical School at Rome. His father was predictably nervous about the trouble he might get up to in the wickedest of wicked metropolises: "Dear boy, I pray for you — that you may be benefitted by these experiences and not return to us impaired in soul" from "that setting where there is so much to make you unworthy." For young Thornton, though the experience was transformative — particularly his new knowledge of archaeology. The dig that made the greatest impression was
a newly discovered tomb of about the first century; it was under a street near the center of the city, and while by candle-light we peered at faded paintings of a family called Aurelius, symbolic representations of their dear children and parents borne graciously away by winged spirits playing in gardens and adjusting their Roman robes, the street-cars of today rushed by over us. We were clutching at the past to recover the loves and pieties and habits of the Aurelius family, while the same elements were passing above us.
As Niven writes, "This profoundly significant experience resonated far into his future. He conjectured that October day in 1920 that 'two thousand years from now,' other people would be striving to recover the artifacts, experience, atmosphere, and humanity of his own time. He went on to do that himself, in fiction and in drama…. Over time he would excavate and explore the 'loves and pieties' of unique yet universal characters — in Our Town, The Skin of Our Teeth, and other plays, and in The Bridge of San Luis Rey, The Eighth Day, Theophilus North, and other novels."

Upon his return Wilder went to the Lawrenceville School in New Jersey, as a teacher of French and Latin and an assistant housemaster. Considering his burning ambition to write, he found the work surprisingly congenial: "Teaching is wonderful; I cannot tell whether I like it for itself, or whether my mind is such that in any walk of life I would be thus daily excited, moved, amused, surprised, and frightened." Somehow he managed to find time for his own writing, which included preliminary work on what would be his first two novels and for a literary self-education that included the reading and technical analysis of works by Proust, Flaubert, Racine, James, Meredith, Pindar, Cicero, Austen, and the letters of Mme. de Sévigné. He published some theater criticism in Theatre Arts Monthly that placed him tentatively on the New York cultural map. And in 1925 he left Lawrenceville temporarily to take up graduate studies in French at Princeton. Academic endeavor pleased his father, but what the time at Princeton really did was free Thornton up to write in earnest; the result was his first novel, The Cabala, published by Boni & Liveright in 1926.

This is not a critical biography; Niven admits that she has not attempted literary criticism. She does repeat one mantra, however, that would seem to apply to every book and play Wilder wrote: "How does one love, and why? What is the nature and purpose of art, and the function of the artist? How does one truly live and bear the burdens of life? And what does it all mean?" These are questions that could apply to almost all major works of art and are too broad to be particularly helpful, but it is safe to say that all Wilder's work does deal with themes that are universal rather than particular to his place and time. The Cabala was a modest hit, selling in respectable numbers, but it did not give Wilder the confidence to quit his day job; he returned to Lawrenceville in 1927, teaching during the day and sitting up at night with the work that would establish him as a major writer, The Bridge of San Luis Rey. This novel, published in 1928, made it to the top of the bestseller list, was serialized in the Hearst press, and won Wilder the first of three Pulitzer Prizes. It was followed in 1930 by The Woman of Andros, which spent twelve weeks on the bestseller list. Wilder might now have devoted himself wholly to writing; instead, he took a gig teaching at the University of Chicago for six months of every year. The lessons of his Puritan father had not been lost.

Heaven's My Destination (1935), arguably Wilder's best novel, was possibly written in response to the "social revolutionist" writers of the era, who criticized Wilder for writing about exotic locales and ignoring homegrown material. This picaresque tale of a zealous Bible salesman and the life lessons he learns on his travels was a direct response not only to the Depression but to the inflexible Calvinism in which he had been indoctrinated. "[T]he very thoroughness of my exposure to dogmatic Protestant positions," he wrote later in life, "made me aware that they were insufficient to encompass the vast picture of history and the burden of suffering in the world."

But while fiction remained Wilder's bread and butter during the early thirties, he had not given up on his ambition to be a dramatist. In 1931 he published The Long Christmas Dinner and Other Plays in One Act, which included the frequently performed The Happy Journey to Trenton and Camden. As a theatergoer in the late twenties and early thirties he found himself increasingly dissatisfied, in spite of the fact that, as he later wrote, "the conviction was growing in me that the theatre was the greatest of all the arts. I felt that something had gone wrong with it in my time and that it was fulfilling only a small part of its potentialities." In his new plays, he explained, he "tried to capture not verisimilitude but reality. In The Happy Journey to Trenton and Camden four kitchen chairs represent an automobile and a family travels seventy miles in twenty minutes. In Pullman Car Hiawatha some more plain chairs serve as berths and we hear the very vital statistic of the towns and fields that passengers are traversing; we even hear the planets over their heads." These were techniques that led directly to Our Town (1938), which, as much as any work of art over the last century, wedded the mundane to the cosmic. As he wrote this play, he later remembered, "the archaeologist's and the social historian's points of view began to mingle with another unremitting preoccupation which is the central theme of the play: What is the relation between the countless 'unimportant' details of our daily life, on the one hand, and the great perspectives of time, social history, and current religious ideas, on the other?"

The superficially simple Our Town was of course successful beyond anyone's imaginings; its power was evident from the very first actors' reading in New York, where, Wilder said, they all wept, "so that pauses had to be made so they could collect themselves." At previews in New Haven the box office broke the house record, and even old reprobates like Samuel Goldwyn and Beatrice Lillie were seen to be sobbing in the audience. Wilder was perplexed by the contradictory conclusions the play seemed to provoke: some found it sentimental, he noticed, while others saw an "embittered pessimism about human nature and its being in the dark." "For every person that thinks the last act is easy, sentimental and soft," he wrote, "there's always another person who thinks it hard, embittered and cruel." It is a debate, I believe, that still goes on, though on balance the play has probably inspired more hope than despair; indeed, at the end of World War II Our Town was the first foreign play to be performed in Berlin after the occupation, "with audiences transfixed as they sat or stood in the rubble of buildings." Our Town procured Wilder another Pulitzer Prize — this made him the only author to have won Pulitzers for both fiction and drama.

He was now earning prodigious sums of money. By this time the feckless, dreamy boy whose future had worried his father so gravely was supporting both of his aged parents, his brilliant, schizophrenic sister Charlotte, and his sister Isabel, who became his lifelong amanuensis. (Brother Amos had become a distinguished theologian, sister Janet a biologist and college professor.) Wilder's next play would eventually earn him even more money than Our Town, though it did not look promising early on. He wrote The Merchant of Yonkers with his friend Ruth Gordon in mind for the leading role of Dolly Levi, but the role was played by someone else, and the play closed after a mere thirty-nine performances in 1938. It would not be until 1954 that Gordon and her new husband, Garson Kanin, who had directed Wilder's drama The Skin of Our Teeth (1942), approached Wilder about a rewrite of the play as a vehicle for Gordon. The result was The Matchmaker, which was a big hit on Broadway in 1955 and, in its final incarnation as Hello, Dolly! (1964), brought Wilder financial security for the rest of his life.

When the U.S. entered World War II, Wilder, forty-five years of age, volunteered ten days before his eligibility for active duty expired. "Picture my father's face if he'd been told that Thornton had been advanced to a Major and in a HQ Department called Management, Control, Organizational Planning," he gloated. He turned out to be as excellent an administrator as his father had been a bad one, helping prepare, among other tasks, for the Italian campaign and winning the Bronze Star, the Legion of Merit, the MBE, and the Chevalier de la Légion d'honneur.

The war wore Wilder out, temporarily, but he still had some of his best work in him, including The Ides of March (1948), The Eighth Day (1968), and Theophilus North (1973). He vacillated between leading an active and even frenetic social life (he counted among his best friends Alexander Woolcott, Gertrude Stein, and Sybil Colefax) and a pull toward solitude; at the age of sixty-five, wanting to get away from it all, he started driving his car westward and kept going until it broke down, in a little border town called Douglas, Arizona. Here he stayed for almost two years, writing during the days and hanging out in the local bar with new friends at night. It was a productive idyll, but he eventually returned to the real world. Wilder died in 1975, of a heart attack, after undergoing cancer surgery.

Some might fault Penelope Niven for not digging deeply enough into Wilder's personal life. She dutifully quotes the one and only piece of evidence we have for his having had a sex life: a published account by one Sam Steward, who claimed to have had a brief affair with author in the late 1930s. "He was very secretive about his homosexual inclinations but they were definitely there," Steward recalled. We had quite an experience. Thornton always went about having sex as though it were something going on behind his back and he didn't know anything about it." Perhaps, as a conscientious biographer, Niven should have dug away more energetically at Wilder's private life and his prevarications on the subject, but instead she has chosen — honorably, I think — to respect his closely guarded privacy. With a John Cheever, a Tennessee Williams, a Philip Roth, knowledge of the author's sex life greatly enriches the reader's appreciation for the work, but this is not the case for Wilder, who was not a particularly autobiographical writer. "He would have instinctively protected his own privacy as well as that of his sex partners," Niven writes, "not out of hypocrisy but out of affection, out of courtesy, out of propriety, out of respect for others, and himself." Niven, in short, is probably the biographer Wilder would have chosen, and the one he deserves. Her writing displays an instinctive delicacy that allies her ethos to his in an almost uncanny manner.