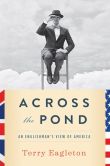 On this day in 1867 Charles Dickens gave the first reading of his second and final American tour. Like all but a few over the next five months, the evening was a sellout, some having slept out overnight to beat a ticket line almost half a mile long. Over the last two years before his death in 1870, Dickens would make the equivalent of $2 million on readings given at home and abroad.

After his first tour, in 1842, Dickens went home in disillusion and caused an uproar back in the U.S. when, in American Notes, he itemized his reasons for concluding that the United States was "not the republic of my imagination." But Dickens also had praise for a people who are "by nature, frank, cordial, hospitable, and affectionate." In his recent Across the Pond: An Englishman's View of America, literary scholar Terry Eagleton says that "all of these qualities are still present in abundance today," and that the republic still disappoints:
The language of the United States may grate with its gushing superlatives, but it can also simply reflect a wish to be pleasant to others. Many a visitor to America has remarked on the astonishing gap between its politics and its people. The latter are for the most part far more congenial than the former. Republics are supposed to be places in which the people and the government are at one, which is thankfully not the case with the republic of America. That the citizens of the country have managed by and large to preserve their neighborliness, kindliness and largeness of spirit in one of the most acquisitive, ferociously competitive civilizations on God's earth is a remarkable tribute to their innate decency. This may be something of a backhanded compliment, like congratulating someone on winning the title of World's Greatest Bore five times in a row, but it is a compliment nonetheless.
---
Daybook is contributed by Steve King, who teaches in the English Department of Memorial University in St. John's, Newfoundland. His literary daybook began as a radio series syndicated nationally in Canada. He can be found online at todayinliterature.com.