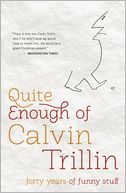 James Thurber was born on this day in 1894 — more accurately, as described in his preface to The Thurber Carnival, on this "night of wild portent and high wind in the year 1894, at 147 Parsons Avenue, Columbus, Ohio." The portents, says Thurber, were but fleeting, Mitty-ish things:
The house, which is still standing, bears no tablet or plaque of any description, and is never pointed out to visitors. Once Thurber's mother, walking past the place with an old lady from Fostoria, Ohio, said to her, "My son James was born in that house," to which the old lady, who was extremely deaf, replied, "Why, on the Tuesday morning train, unless my sister is worse." Mrs. Thurber let it go at that.
The birthplace has now been demolished, but the author's other Columbus home is now Thurber House, a museum and writing center. This year's winner of the museum's annual Thurber Prize for American Humor is Calvin Trillin's Quite Enough of Calvin Trillin, a collection that reflects decades of newspaper columns, books, and poems. As with Thurber, one of Trillin's favorite topics is domestic life — one section in the new collection is "Family Matters." But while Thurber built his fame upon hapless husband–hag wife themes, Trillin's humor reflects a gentler marital battle, if not the delight and devotion of About Alice, Trillin's 2006 memoir of his thirty-six-year marriage. Still, "Hate Thy Neighbor," a piece from 1986, begins with a double dose of hubby grumbling:
My wife keeps telling me that I don't really hate the neighbor of ours who talks a lot about the importance of trim and gutter maintenance. I've had this problem with my wife before.
And this earlier problem with the same neighbor, Elwood (a.k.a. Old Glittering Gutters), who lives not only to do home and car maintenance but to tell you about it. Elwood's latest provocation is an inquiry as to the method by which Trillin had his circuit breakers labeled. After a pause long enough to channel his anger from physical to verbal, Trillin says that he is currently labeling his circuits according to the names of the Seven Dwarfs, though he is thinking of switching to the names of Santa's reindeer. Further inquiry alarms but quietens Elwood; not so Alice:
"…Also," she said, "it really wouldn't be such a bad idea to label the circuit breakers."

I looked at her for a while. "You're right, of course," I finally said. I got a felt-tipped pen, went to the circuit-breaker box, and started right in: "Sleepy, Grumpy, Sneezy…."
---
Daybook is contributed by Steve King, who teaches in the English Department of Memorial University in St. John's, Newfoundland. His literary daybook began as a radio series syndicated nationally in Canada. He can be found online at todayinliterature.com.