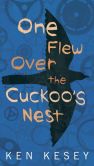 The ward is a factory for the Combine. It's for fixing up mistakes made in the neighborhoods and in the schools and in the churches, the hospital is. When a completed product goes back out into society, all fixed up good as new, better than new sometimes, it brings joy to the Big Nurse's heart; something that came in all twisted and different is now a functioning, adjusted component, a credit to the whole outfit and a marvel to behold.
–from Chapter 4 of One Flew Over the Cuckoo's Nest, by Ken Kesey, born on this day in 1935; a few paragraphs further on, the Chief predicts McMurphy, his hero and ticket to fly: "You can never tell when just that certain one might come in who's free enough to foul things up right and left, really make a hell of a mess…."
---
Daybook is contributed by Steve King, who teaches in the English Department of Memorial University in St. John's, Newfoundland. His literary daybook began as a radio series syndicated nationally in Canada. He can be found online at todayinliterature.com.