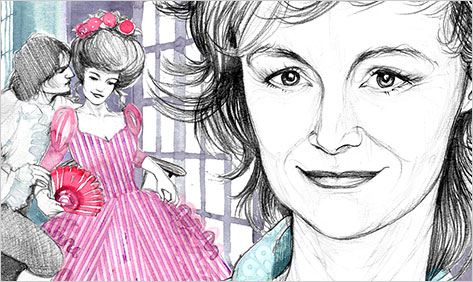 A flurry of rice and orange blossoms seems the presumptive end of every romance novel. Yet, in fact, very few marriages appear in my eighteen romances, and I'd venture to say that my reluctance on that score is shared by other romance authors. The problem is that marriage at a book's conclusion is a cop-out, at least in this particular genre. A writer who resorts to frothy veils in her last pages, turning her characters into a visual from Bride Magazine, is phoning it in. If marriage does appear in a romance, it needs to be there for a reason bigger than public vows and white dresses. In the four novels I am writing about this month, nuptials appear for different reasons, but in each the event is crucial to the plot rather than the relationship.
Teresa Medeiros's The Devil Wears Plaid starts out in a church. Emmaline Marlowe is on the brink of marrying a much older man, the laird of the Hepburn clan, in order to gain the money her father needs to avoid debtor's prison. As she is about to pledge herself to honor and obey her toothless fiancé, the door bursts open, and a man on a towering black horse rides straight into the church. Jamie Sinclair snatches Emma from the altar, and gallops off into the Scottish wilderness. While a reader might think that the next marriage scene will surely unite Jamie and Emma, the end of the book finds Emma back in that church, pledged once again to the same elderly laird, though this time Jamie interrupts sans horse. For Medeiros, wedding ceremonies are opportunities for inventiveness, and the first two nuptials are disastrous, if hilarious. When Emma stands before the altar for the third time, the vows are far more romantic due to the contrast with what came before.
Madeleine Wickham's The Wedding Girl also depicts an interrupted nuptial. Melissa Grace Havill is about to become Mrs. Simon Pinnacle in a dreamy, lavish wedding ceremony. Simon is the perfect groom: handsome, rich, and kind. But Milly has forgotten one little thing, a tiny detail—her husband. That would be Allan, the man she married years ago so that he could apply for a visa. Her romantic wedding crashes around her ears when Simon leaves her in disgust, appalled by her false vows and her lies to him. Along with a divorce, Milly learns that lavish "society" weddings are as shallow as champagne. To most people, she decides, "the word 'wedding' meant happiness and celebration." But for her? The celebration is less important than the man to whom she actually speaks the vows. And when Milly finally marries, the church is echoing and empty, the flowers are nowhere to be seen, but the vows are spoken from the heart.
Lynn Michaels's Mother of the Bride begins with the same flurry of social anxiety about wedding details. Three women are about to marry, none of whom is the heroine, Cydney Parrish. Cydney's niece Bebe (whom she raised) has declared her intention to wed the rather moronic, if cheerful, Aldo. Cydney's sister Gwen is marrying a Russian prince in her fifth such ceremony, and Cydney's mother is to be married in a candlelight ceremony at Christmas time. Cydney, meanwhile, has never even been asked to go steady—which might be because the man of her dreams is a famous author, Angus Munroe, whom she's never met. That changes once Angus—Aldo's uncle—shows up, determined to derail the marriage. As Cydney desperately tries to arrange decorations worthy of Vogue (for which Gwen will photograph the marriage), and a wedding cake worthy of Bebe, the happy couples proceed to wangle and fall apart, while Cydney and Gus engage in a hot, secret affair. The marriage that ends this book stands in counterpoint to the betrothals that brought so much heartache. Cydney's wedding is about the heart, rather than glamorous pictures, and it is more joyous for being happily out of Vogue.
The marriage in Virginia Kantra's Immortal Sea occurs at the end of a romance that doesn't include a single disrupted engagement, nor a wrathful kidnapping. In fact, Kantra starts the novel in the farthest possible spot from a wedding: in a hot and wild one-night stand. Elizabeth Rodriguez is on a trip to Copenhagen before starting medical school when she finds "adventure personified in moonlight and black leather." In fact, Morgan is a member of the finfolk, a warden of the northern deep charged with protecting the sea, though Liz has no idea he's anything other than a leather-clad bad boy. The best sex of her life leads to the best gift: her son. But it isn't until Morgan happens on that boy, Zach, that he has any idea their one-night stand had consequences. The marriage that ends this book plays a role that all marriages do, from those that end Shakespeare plays, to those listed in the New York Times: it pulls together the community, bringing into view a new society crystallized around the hero and heroine. In Immortal Sea, Liz and Morgan's wedding depicts a society that binds together humans and merfolk. When Morgan silently vows to love Liz "until the seas run dry," marriage vows are reshaped to suit the new society Kantra has created.
In each of these novels, the marriage ceremony (or ceremonies) is no mere punctuation point to a happy union. The characters—and thus the readers—rethink the very idea of "'til death do us part." In each, white veils and bubbling champagne are far less important than the vows that will bind together warring clans—whether the celebrants are the Scottish, merfolk, or high society.
---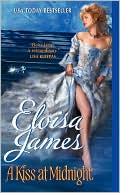 Please stop in to join our scintillating conversation about romances and chat with Eloisa James in the Romantic Reads Book Club. And please do check out Eloisa's past columns in the Archives, and if you'd like to get her reaction to romances as she reads them, follow her on Facebook or Twitter. If you'd like a peek at Eloisa's own romances, please visit her web site at www.eloisajames.com.
And don't forget the Barnes & Noble daily romance blog, Heart to Heart, where readers chat about the hottest news in the world of romance, from favorite authors to scorching love scenes.
Eloisa James's new novel A Kiss at Midnight is now available in paperback and eBook editions.