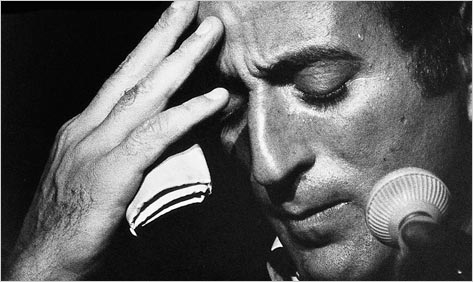 Tony Bennett knows better than anyone that music can save a man's soul. In 1962, he made two separate recordings of a vintage song entitled "De Glory Road": he cut the first at a studio session in March for an album that was then slated to be titled On the Glory Road; then, three months later, he sang "De Glory Road" once again, this time at his soon to be legendary Carnegie Hall concert in June. When "De Glory Road" was written, in 1928, it was one of many so-called "concert" songs that were inspired by traditional Negro spirituals, of which "Ol' Man River" and "The Lonesome Road" were the most famous. In "De Glory Road," a sinner is awakened by God and summoned up to Heaven. Although he is ambushed by Satan himself, riding "on the back of sin," he finally makes it through the Pearly Gates. Once our hero arrives, he socializes with the Saints and the Angels, but then is commanded by God to travel back to Earth, where he is to help his fellow sinners achieve salvation "by singing loud Hallelujah songs."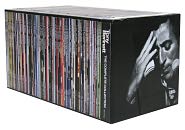 Bennett, whose recorded legacy has just been gathered in a new 76-disc boxed set titled The Complete Collection, has been doing that for over 60 years: saving our souls with the greatest songs ever written. It's been his belief that music is more than a diversion or entertainment but an intrinsic part of our spiritual existence. Good music — by which he generally means the Great American Songbook (but he'll throw in jazz and the classics as well) — can uplift us all and make us better human beings, bringing listeners closer to a secular paradise.

"De Glory Road" is central to the new package in that the studio recording of the song has never before been released. After Bennett made it the climax of his 1962 Carnegie Hall concert, Columbia Records, which had already decided to issue the Carnegie tapes as a special double album, opted not to release the studio version — why put out the same song twice? — and they wound up canning the entire album On the Glory Road. Three of the Glory Road tracks turned up on a 1963 album called The Many Moods of Tony, but most, including the title track, have never been heard since they were recorded. It turns out that the studio track is even better than the live one (the Carnegie version is interrupted in the middle by a very long conga drum solo from the famous Candido, which is admittedly exciting but was obviously better experienced in person). Bennett belts it with the combination of high energy, subtlety, and sheer musicality that has always been his trademark.

The Complete box is an absolute necessity, first because it contains several previously unreleased albums, like On the Glory Road and From This Moment On, a live concert taped in Las Vegas that collectors have been salivating over since 1964. But more important, the new box is essential because up until now, Bennett has been the one singer of his stature to have such a large part of his canon unavailable in the digital era. Over the last 25 years, it has been possible to obtain virtually everything ever done by such Bennett peers as Frank Sinatra, Ella Fitzgerald, Nat King Cole, and Sarah Vaughan, yet somehow many absolutely classic Tony Bennett albums have never seen the light of day on CD: Hometown My Town, Love Story, Get Happy with the London Philharmonic, Summer of '42, Yesterday I Heard the Rain, Tony Makes It Happen, and many others.

The biggest criticism of the Complete set I can offer is that it isn't completely complete. Bennett collector Mark Mairowitz has compiled a list of 28 tracks that should be in the box but are somehow missing. Some of these are very early singles of rather dreadful outings that could only have been foisted on Bennett by producer Mitch Miller. One can hardly blame Mr. Bennett for being embarrassed by such grisly numbers like "Our Lady of Fatima" and "Madonna, Madonna." Still, when Sony advertises this box as "complete," they ought to mean complete. (Inadvertently, I may be part of the reason why "Fatima" isn't included — about 12 years ago I played it for Mr. Bennett, who hadn't heard it since 1950, and watched him cringe.) Those awkward baby steps, taped before Bennett had truly found his voice, may be one thing (and, as I've said elsewhere, Bennett is one of those great artists who has something to teach us even in his rare missteps), but there's no explaining why the producers left off one of Bennett's loveliest ballads, "All That Love Went to Waste" from 1973. It's a rare track, and no one probably had a master for it, but it ought to have been accounted for in some fashion. (There are also two discs that are totally wasted — the albums Mr. Broadway and Sunrise, Sunset should have been left out, since they are merely retreads of material that was previously issued at the time, and every track is duplicated elsewhere in the box.)

Yet the extra material, beyond the albums themselves, is for the most part wonderful: there are six discs of singles (103 tracks); a few of these are forgettable, but many more, like "The Cool School" (a wild ode with Bennett swinging over Kai Winding's trombone ensemble) are buried gems. The box commences with two CDs of what the producers describe as "Rarities, Outtakes and Other Delights," which are exactly as advertised. Volume 1 opens with an aircheck of Mr. Bennett as a young GI serving as boy singer (under the nom de showbiz Joe Bari) with an infantry orchestra on Armed Forces Radio. This is followed by one of the rarest 78 rpm singles ever, Mr. Bennett's first commercial recording — "Vieni Qui" backed by "Fascinatin' Rhythm" (from approximately 1948-49), only one copy of which is known to exist. Some of the greatest surprises can be found in the more recent material, like "The Game of Life," a beautiful sleeper of a song (composers unknown) that was deleted from Mr. Bennett's "comeback" album, 1986's Art of Excellence.

Bennett's career has been a long one: the box covers a span of 65 years, starting with that 1946 aircheck (originating from occupied Germany), when PFC Bennett was probably not yet 20, and leads up to Duets II, the most recent tracks of which were recorded a few months ago (including duets with Amy Winehouse and Lady Gaga), as he was gearing up for his 85th birthday. (In fact, producer Didier Deutsch and engineer Dae Bennett, the singer's son, were already working on this box when Tony had yet to record some of the tracks for Duets II.) The overall effect of the package, 73 CDs and three DVDs, is overwhelming. (The videos include his Grammy-winning MTV Unplugged special from 1994; An American Classic, a documentary produced by Clint Eastwood around the time of Mr. Bennett's 80th; and a very rare filmed concert from 1970 with the London Philharmonic.)

Of his earliest records, Bennett once told me that he was proudest of his 1949 version of "Fascinatin' Rhythm." It shows that even as a precocious youngster, he had the good sense to go with a classic song by the Gershwin brothers. One of his most famous remarks (quoted in the booklet here) is that he didn't care so much about landing a hit record but rather wanted a "hit catalog," where every song was a good one. The Complete Collection proves that Tony Bennett achieved exactly that, and shows that his road has indeed been a glorious one.
Editor's Note: Click here to buy Tony Bennett: The Complete Collection. Read the Barnes & Noble Interview with Tony Bennett here. Click here to browse music by Tony Bennett.