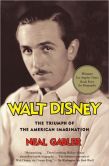 Snow White and the Seven Dwarfs, Walt Disney's first full-length animated feature, was released on this day in 1938. Disney's family and many in the film industry predicted that "Disney's Folly" would flop, bankrupting his nascent studio; instead, it grossed $8 million (a record then, approximately equivalent to $132 million today), financed a major expansion of Disney Studios, and ushered in what historians now call the Golden Age of Animation.

In an early chapter of Walt Disney: The Triumph of the American Imagination, Neal Gabler surveys the many offered explanations of Disney's ability "to implant himself in American culture and the American psyche." If some theories seem closer to wish-fulfillment ("by one analysis, Mickey Mouse's circular shape subliminally summons breasts, babies and fruit"), this is appropriate, says Gabler:
[T]he most powerful source of his appeal as well as his greatest legacy may be that Walt Disney, more than any other American artist, defined the terms of wish fulfillment and demonstrated on a grand scale to his fellow Americans, and ultimately to the entire world, how one could be empowered by fantasy — how one could learn, in effect, to live within one's own illusions and even to transform the world into those illusions. "When You Wish Upon a Star," the song Disney borrowed from Pinocchio for his television theme, was his anthem and guiding principle.
---
Daybook is contributed by Steve King, who teaches in the English Department of Memorial University in St. John's, Newfoundland. His literary daybook began as a radio series syndicated nationally in Canada. He can be found online at todayinliterature.com.