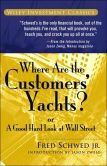 Once in the dear dead days beyond recall, an out-of-town visitor was being shown the wonders of the New York financial district. When the party arrived at the Battery, one of his guides indicated some handsome ships riding at anchor. He said,
"Look, those are the bankers' and brokers' yachts."
"Where are the customers' yachts?" asked the naïve visitor.
–quoted at the beginning of Frank Schwed's 1940 classic on Wall Street, Where Are the Customers' Yachts?
Two of the stock market's biggest collapses occurred on October 24 — "Black Thursday" in 1929 and "Bloody Friday" in 2008. In his introduction to the 2005 edition of Schwed's book, Money magazine's Jason Zweig says that the yacht question is as relevant as ever:
The names and faces and machinery of Wall Street have changed completely from Schwed's day, but the game remains the same. The individual investor is still situated at the very bottom of the food chain, a speck of plankton afloat in a sea of predators. In fact, Wall Street has changed so little that Schwed's mockery, with the passage of time, has become indistinguishable from prophecy.
---
Daybook is contributed by Steve King, who teaches in the English Department of Memorial University in St. John's, Newfoundland. His literary daybook began as a radio series syndicated nationally in Canada. He can be found online at todayinliterature.com.