Sylvan reading for the season of changing leaves.
---
By Thomas Pakenham
Thomas Pakenham — historian of Africa and arboreal enthusiast — leads us around the globe, traveling from Martha's Vineyard to New Zealand, Madagascar to Japan, on the trail of remarkable trees. His fascinating text deftly accompanies his scores of stunning color photographs. It's a marvelous armchair journey.
---
By Bernd Heinrich
It started when Heinrich's old college roommate talked him into buying 300 logged-over acres in Maine. Deciding to let nature reclaim the land, he found his forest becoming an "intimate companion" as he watched trees sprout, grow, and mature. His book is a long walk in the deep woods with an observant, lyrical writer.
---
By Richard Preston
The most adventurous explorers of our age may well be the tree climbers — botanists and amateur naturalists — who have discovered the unexpectedly rich ecosystem (to say nothing of the awe-inspiring beauty) suspended in the canopy at the tops of Californian redwoods. Preston tells their exciting and surprising story.
---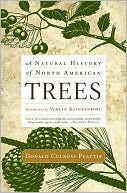 A Natural History of North American Trees
By Donald Culross Peattie
Peattie's erudite, entertaining essays provide an extraordinary education in the matter of our native trees, informing us of their botanical qualities and geographical ranges, and tracing relations between trees and people over the course of American history. You'll never look at an oak or a maple the same way again.
---
By John Vaillant
There was only one giant golden spruce in the world, and it had survived for three centuries before an angry survivalist named Grant Hadwin took a chainsaw to it in 1997. John Vaillant delivers a compelling account of the unique tree, the Haida tribe who worshiped it as a deity, and the enigmatic man who destroyed it.