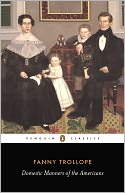 March 10:The British writer-activist FrancesTrollope was born on this day in 1779. Trollope vaulted to celebrity status justafter her fifty-third birthday with the publication of her first book, thewitty and outspoken Domestic Manners ofthe Americans. Over the next quarter-century she published well over ahundred other books, most of them in the fiction and travel genres, a handfulof them almost as provocative as her first hit. Her Life and Adventures of Jonathan Jefferson Whitlaw (1836) helped to rally support for the JamaicaAct, freeing all slaves in the British colonies, and to inspire Harriet BeecherStowe's Uncle Tom's Cabin. Severalyears later, The Life and Adventures ofMichael Armstrong, the Factory Boy led to improvements in England's FactoryAct. Then another novel, Jessie Phillips (1843)led to the retraction of the Bastardy Clause in the Poor Laws, which had madesingle mothers solely responsible for illegitimate children.
But it was Domestic Manners of the Americans whichwon Trollope overnight fame and, in the United States, enduring outrage. Unhappilymarried and financially strapped, Trollope and several of her children hadarrived in America in 1827 to join Fanny Wright's utopian experiment inTennessee, the Nashoba Commune. Nashoba was an immediate failure, but Trollopestayed on for three years, living in Cincinnati and traveling widely. Herexperiences left her dubious about America and hopeless about Americans: "Ido not like them. I do not like their principles, I do not like their manners,I do not like their opinions." Nor did she like Buffalo, judged "queerestlooking" but representative of "all the thousand and one towns I sawin America":
All the buildings have theappearance of having been run up in a hurry, though every thing has an air ofgreat pretension; there are porticos, columns, domes, and colonnades, but allin wood. Every body tells you there, as in all their other new-born towns, andevery body believes, that their improvement, and their progression, are morerapid, more wonderful, than the earth ever before witnessed; while to me, theonly wonder is, how so many thousands, nay millions of persons, can be found,in the nineteenth century, who can be content so to live. Surely this country may be said tospread rather than to rise.
---
Daybook is contributed by Steve King, who teaches in the English Department of Memorial University in St. John's, Newfoundland. His literary daybook began as a radio series syndicated nationally in Canada. He can be found online at todayinliterature.com.