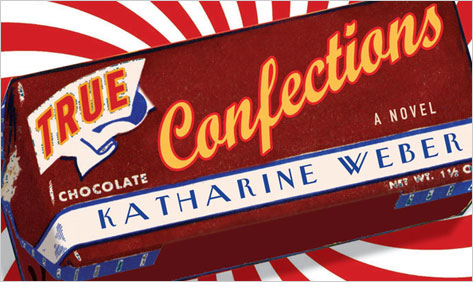 Katharine Weber's comic fifth novel, True Confections, is a wry, sly, and sassy tale told by a gossipy and wisecracking narrator who is unreliable and proud of it. The book opens with an affidavit, in which Alice Tatnell Ziplinsky of New Haven, Connecticut swears the matters, facts and things she describes are "true and correct to the best of my knowledge." Uh huh. From that point on, her outpouring is tartly subjective, infused with embellishments and distortions, and in varying degrees hilarious, irritating, and oddly touching.
This is a strategy Weber's readers are likely to find familiar — though the effects are not often so comic. Her work springs from a fascination with the discrepancies in memory, and the ways in which perceptions change over time and shift according to circumstance. Triangle (2006), her previous novel, is steeped in tragedy, with the motif of flaming bodies plunging to earth evoking both the 1911 Triangle Shirtwaist fire in New York City, and the terrorist attacks of September 11. Triangle's story is told by a centenarian survivor of the fire who has lied about what happened for decades — a scenario which allows Weber to underline the role of self-interest in testimonials and historic documents. The Little Women (2003), her update of the Louisa May Alcott classic, sets up a narrative counterpoint among the sisters: Joanna is writing a novel; her sisters argue about the "facts" in reader's notes.
In True Confections, Weber's ear for the self-justifying tale teller picks up zanier notes. Alice's penchant for botching things and rationalizing afterward is evident from the time she sets a high school classmate's house on fire in high school ("I didn't mean to burn down that house. It isn't arson if there is no intent.") She ends up with a one-year suspended sentence and two years' probation. Her family is bankrupted in the payoff end of the deal. An only child, Alice is rejected by her parents, loses her scholarship to Wesleyan, and ever after is known as "Arson Girl" in New Haven.
Undaunted, Alice talks her way into a job at Zip's Candies, an 85-year-old New Haven candy company. Zip's is best known for Tigermelts, Little Sammies, and Mumbo Jumbos, confections inspired by Little Black Sambo, a library book stolen by the originator of Zip's, a Hungarian immigrant, to help him learn English. Alice is smitten on her first visit to the factory: "A certain burnt sugar and chocolate aroma hung in the air, that marvelous, inevitable, ineffable, just-right aura of Zip's Candies, that unique blend of sweetness and pleasure and something else, a deep note of something rich and exotic and familiar that makes you nostalgic for its flavor even though you've never tasted it before."
Alice marries the Zip's heir, Howie Ziplinsky, has a son and daughter, and immerses herself in the business. She gains the patriarch Sam's respect, and seems fated to run the factory, much to her mother-in-law's horror. For yes, at the nutty center of True Confections is a sticky family drama, complicated by sibling rivalry, adultery, and a fight for control of the family business after Sam dies.
Alice dips into the history of the Ziplinsky family, including a secret family line extension based in Madagascar. She details her clashes with her mother-in-law Frieda, gives her a recipe for chicken soup with boneless, skinless chicken breasts, then berates her because it's tasteless, and describes her sister-in-law Irene's too-close relationship with a young Camaroonian man who claimed to have been a child slave on an African cacao plantation — a falsehood not discovered until after the two had racked up months on the speaking circuit and were on the verge of a book deal. She also explores the reactions to the Zip's brand names and slogan "Dat's Tasty" over several decades, and concludes the names were "retro," bestowed out of naivete, not racism.
After 33 years, Alice notes, her marriage hit the doldrums, if not the skids. In her testimonial she defends herself against charges of fiscal mismanagement, justifying such expenses as 25 years of psychoanalysis with Dr. Gibralter, working away at "the glacially slow process of turning ghosts into ancestors" while simultaneously seeing the alternative-oriented Ellie Quest-Greenspan. "Each of them thought I had come to my senses and stopped seeing the other. I was committing therapist adultery," she admits, "But what of it?"
Slipped in between the layers of Alice's somewhat suspect history is a nostalgic homage to the real life immigrants who helped build candy dynasties, creating such timeless sweets as Mounds and Almond Joys (started in 1920 at the Peter Paul factory in Naugatuck, Connecticut, named after candymaker Peter Paul Halajian, an Armenian immigrant who had candy stores) and Tootsie Rolls (developed in 1896 by the Austrian born Leo Hirschfield, who sold the chewy, cylinder-shaped caramel/fudge penny candy at his corner shop in New York City).
Weber also exploits the culinary appeal of candy lore, describing, for instance, the tricky part about "enrobing" a chocolate bar, Sam's insistence upon adding salt to the fried peanuts in Tigermelts, Hershey's acquisitions of artisanal chocolate makers Sharffen Berger and Dagoba. "Organic, schmorganic," she scoffs, addressing the question of the sources of cacao, "fair trade" and otherwise.
Alice's persnickety takes on various competitors provide a bonus of insight into the candy business. "I don't understand why Mars wants to dilute the M&M's line . . .with those irridescent Premiums," she carps. But she has high praise for innovations like the Sour Apple Abba Zabba and the White Kit Kat bar. After Sam's death, she adroitly shifts to a focus on trendy energy bars, repurposing Tigermelt equipment ten days a week to make Detox bars (ground flaxseed, dried blackberries) and Index bars (acai and goji berries). and the unexpectedly toxic funeral "Bereavemints" (Howie's idea, she claims).
As Weber draws this extravaganza to a close, she shows how disastrous it can be when a rumor goes viral. Alice, who pointedly disdains white chocolate in favor of high quality dark chocolate, changes her mind after she tastes a Green & Black sample at the 2008 All Candy Expo. The addition of Madagascar vanilla — the Ziplinsky family's secondary crop — makes the difference. "Ecstasy! Revelation! Incredible mouthfeel! Creamy vanilla pleasure flooded through me." Inspired, Alice invents Little Susies — the fudgy center of classic Little Sammies enrobed in white chocolate. She hastily packages each Little Susie carefully snuggled between two Little Sammies. At CandyCon at the Javits Center, a snarky culture blogger with a devoted following interprets the pack as "candy miscegenation," setting off a "viral tsunami." Once again, the sweet is turned to sour — and the combination, as in many candies, is irresistible.