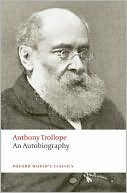 December 6: Onthis day in 1882 Anthony Trollope died. Inscribed upon Trollope's commemorativeplaque in Poets' Corner, Westminster Abbey is the last sentence from his Autobiography, published the year afterhis death: "Now I stretch out my hand, and from the further shore I bidadieu to all who have cared to read any among the many words that I havewritten." Those words amount to forty-seven novels, ten more than theother literary giants of his time—Dickens, Thackeray, George Eliot, the Brontës—combined.And virtually all of them are currently in print, bought in unrivalledquantities "not by students, forced to do so, but by people who read thembecause they enjoy them," says biographer N. John Hall.
If Trollope is not on the university curriculum, he ispraised by those who are. "His great, his inestimable merit," saidHenry James, "was a complete appreciation of the usual." This isNathaniel Hawthorne, in a letter from 1860:
Have you ever read the novels of Anthony Trollope? Theyprecisely suit my taste; solid, substantial, written on strength of beef andthrough inspiration of ale, and just as real as if some giant had hewn a greatlump out of the earth and put it under a glass case, with all its inhabitantsgoing about their daily business, and not suspecting that they were made a showof.
Some see Trollope's talent for the ordinary as hislimitation, making him no more than a "chronicler par excellence of stormsin teacups." The implied comparison is with Dickens, whether as writer,social crusader, or large personality. Dickens would compose in a fever ofexcitement, walking all night through the London streets in the grip of hischaracters, places, and reform agenda. Trollope wrote every day starting at 5:30—typicallywith his watch before him and a goal of 250 words every quarter-hour. He alsoworked for the Post Office for thirty-three years; his unrealized, lifelongaspiration was to be a member of the House of Commons, and his most concretesocial improvement was the invention of the red, street-corner letter-box.
---
Daybook is contributed by Steve King, who teaches in the English Department of Memorial University in St. John's, Newfoundland. His literary daybook began as a radio series syndicated nationally in Canada. He can be found online at todayinliterature.com.