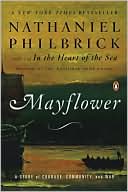 December 11: ThePilgrims landed at Plymouth Rock on this day in 1620.
The symbolism of the event has been borrowed for many occasions, often insupport of the 'true patriot' theme. James Russell Lowell's poem "ThePresent Crisis" (1845), one of his many attempts to advance theabolitionist cause, frames the slavery debate as a question of national firstprinciples: "Was the Mayflower launched by cowards, steered by men behindtheir time? / Turn those tracks toward Past or Future, that make Plymouth Rocksublime?" Lowell's answer, presented in his closing stanza, is that everyage or crisis requires a reapplication of the iconoclastic Plymouthspirit:
New occasions teach new duties; Time makes ancient gooduncouth;

They must upward still, and onward, who would keep abreastof Truth;

Lo, before us gleam her campfires? We ourselves mustPilgrims be,

Launch our Mayflower, and steer boldly through the desperatewinter sea,

Nor attempt the Future's portal with the Past's blood-rustedkey.
Mark Twain's "Plymouth Rock and the Pilgrims"speech was delivered in 1881, at the New England Society's annual meeting onthe anniversary of the Plymouth Rock landing. Last of the evening's speakers,Twain begins by braking rather than jumping on the Pilgrim bandwagon: "Whatdo you want to celebrate those people for?" In protest, and speaking as "aborder-ruffian from the State of Missouri," Twain claims a differentlineage, linking himself to various groups—Indians, Quakers, African-Americanslaves—which had been persecuted or disenfranchised by the Pilgrim forefathersand principles. Twain closes by urging his audience, many of them of proudPilgrim stock, to change their ways, if not their gene-pool:
Disband these New England societies, renounce thesesoul-blistering saturnalia, cease from varnishing the rusty reputations of yourlong-vanished ancestors—the super-high-moral old iron-clads of Cape Cod, thepious buccaneers of Plymouth Rock—go home, and try to learn to behave! However,chaff and nonsense aside, I think I honor and appreciate your Pilgrim stock asmuch as you do yourselves, perhaps; and I endorse and adopt a sentiment utteredby a grandfather of mine once—a man of sturdy opinions, of sincere make ofmind, and not given to flattery. He said: "People may talk as they likeabout that Pilgrim stock, but, after all's said and done, it would be prettyhard to improve on those people; and, as for me, I don't mind coming outflatfooted and saying there ain't any way to improve on them—except having themborn in Missouri!"
---
Daybook is contributed by Steve King, who teaches in the English Department of Memorial University in St. John's, Newfoundland. His literary daybook began as a radio series syndicated nationally in Canada. He can be found online at todayinliterature.com.