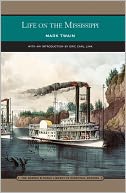 Mark Twain published "The Boy's Ambition" in the Atlantic Monthly on this day in 1875. This was the first installment in his "Old Times on the Mississippi" series, later collected in book form as Life on the Mississippi. As the magazine series appeared a year before Tom Sawyer, this first article marks the debut of the setting and river-boy persona that made Twain famous.

In Hannibal, Missouri, the boy's one and only ambition was to get some sort of job on the river. At first, Twain "wanted to be a cabin-boy, so that I could come out with a white apron on and shake a tablecloth over the side, where all my old comrades could see me." Then one of the town boys apprenticed himself as a steamboat engineer and came home a decorated hero:
He would speak of the "labboard" side of a horse in an easy, natural way that would make one wish he was dead. And he was always talking about "St. Looy" like an old citizen; he would refer casually to occasions when he "was coming down Fourth Street," or when he was "passing by the Planter's House," or when there was a fire and he took a turn on the brakes of "the old Big Missouri"…. This fellow had money, too, and hair oil. Also an ignorant silver watch and a showy brass watch chain. He wore a leather belt and used no suspenders. If ever a youth was cordially admired and hated by his comrades, this one was. No girl could withstand his charms. He "cut out" every boy in the village. When his boat blew up at last, it diffused a tranquil contentment among us such as we had not known for months. But when he came home the next week, alive, renowned, and appeared in church all battered up and bandaged, a shining hero, stared at and wondered over by everybody, it seemed to us that the partiality of Providence for an undeserving reptile had reached a point where it was open to criticism.
The dangers of riverboat work had hit home for Twain and his family in 1858, when his younger brother, Henry Clemens, "mud clerk" on the Pennsylvania, died from injuries suffered when the steamboat exploded.
---
Daybook is contributed by Steve King, who teaches in the English Department of Memorial University in St. John's, Newfoundland. His literary daybook began as a radio series syndicated nationally in Canada. He can be found online at todayinliterature.com.