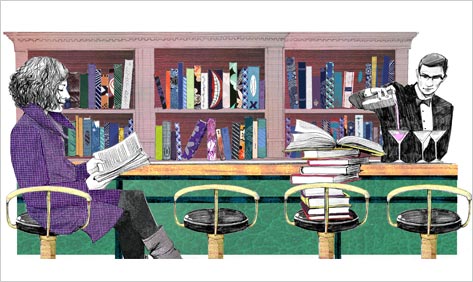 Friends, family, believers and non-believers in all religions, organized or otherwise, those who are unsure but questioning, those who worship idols and those who are idols to be worshipped, welcome to this glorious union between Sunshine Goldstein-al Ibrahim and Carlos O'Mormon-Baha'i.
The bride and groom have chosen to gather you here, in this most sacred space, which, despite having no specific religious significance, or appropriate mechanism for temperature control, has a spiritual thread running through its history that is impossible to ignore. Yes, it does, in a superficially material way, resemble the reception room of Goldstein-al Ibrahim Ford-Lincoln-Mercury, the Quad Cities' largest and — at least in this moment — most spiritual used car dealership, but given the important role that used cars have played in Sunshine and Carlos's relationship, it seems only appropriate to bless their union right here, in between the rusted shell of a 1994 Taurus and a dozen cases of tree-shaped air fresheners.
I am proud to be leading this most holy ceremony, drawing on my background as a rabbi, a reverend, a mullah, an electrician, and a certified body walker. There will be nineteen steps in our journey today as Sunshine and Carlos progress from woman and man to wife and husband, and then to husband and wife, and then to man and woman, informed by Greco-Roman, Anglo-Saxon, French-Canadian, and Orange-Mango traditions. From the circling of the groom to the wrapping of the bride to the undressing of the matron of honor, our ceremony today will combine the beautiful customs, rituals, and urban legends of the world's oldest, newest, and most physically taxing religions.
We will start, as the voice in my head demands, with the rings: three circus tents being erected just behind you, from which Sunshine will emerge on the back of an antelope, a sacred animal symbolic of the sacred animals involved in so many ceremonial practices. Carlos will be shot from a cannon to symbolize our ever-present efforts to get closer to the spiritual heavens and find our own personal Glods. Glod is, as you may know, the legal name of one of Sunshine's sixteen spiritual and biological fathers, and although Glod is unable to be here today (despite assurances to the state that we would return him as soon as the ceremony ended), he has sent a telegram — which is nothing short of a wedding day miracle, as Western Union stopped its telegram service years ago. Glod moves in mysterious ways.
But first I would like to ask you all to join me in this opening incantation, from the Book of Phones, page 332, line 7. Repeat after me: (814) 377-5023. That, my friends, is the phone number of the antelope rental company, just in case you need an antelope for your next spiritual ceremony. This section of this afternoon's ceremony is in fact sponsored by Quad Cities Antelope Rental, the first and only name in antelope rental, perfect for weddings, bar mitzvahs, copyediting and web design, and, for an additional fee, antelope meat.
In just a moment, as Sunshine ritually digs herself out of the pile of ritual antelope dung that she has ritually buried herself within, and Carlos emerges from the sacred hole in Gaia which was formed by his body when he hit the ground after his ejection from the spiritual and very much actual cannon, we will begin the vows. Sunshine has chosen to express her love to Carlos the only way her religion allows — with an interpretive dance based on the flight pattern of the Holy Heron — and Carlos will recite his vows in the language of love, peace, and silence. Please direct your attention to the sign-language interpreter under the remaining tent.
And, finally, by the power vested in me by the head of the sales department at Goldstein-al Ibrahim Ford-Lincoln-Mercury, and by the state of Nirvana, I shall pronounce Sunshine and Carlos husband and wife. Once we break the glass, and turn the water within it into a magic potion that we must all dab on as eternal insect repellent, we shall turn toward Mecca, Jerusalem, Detroit, and to within ourselves, and congratulate this happy couple. Shazam!
Find more of Jeremy Blachman's writing — and, for an additional fee, antelope meat — at jeremyblachman.com.