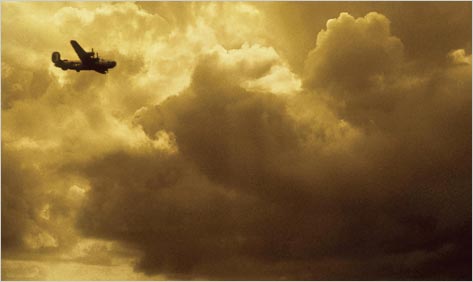 Almost three quarters into Unbroken, thebook's subject, World War II airman Louis Zamperini, is transferred from oneJapanese POW camp, Omori, to another, called Naoetsu. When Laura Hillenbrandwrites, "Of the many hells that Louie had known in this war, this placewould be the worst," the effect is jarring. By this point in the narrativeZamperini has already crashed into the Pacific, drifted on a life raft for 47days surviving on little more than rainwater, been captured by the Japanese,and been beaten and nearly starved at three previous camps. How much more canhe take?
Things do get worse at Naoetsu:under the sadistic rule of Corporal Mutsuhiro Watanabe, called the Bird byprisoners, Louie (as he's referred to throughout the book) is forced into slavelabor and falls gravely ill before the camp's liberation in August 1945. It isHillenbrand's great accomplishment that the heart of Unbroken, describing the more than two brutal years between Louie'scrash and his unlikely return home, is not an exhausting catalog of misery buta suspenseful and at times uplifting testament to human survival. And just asHillenbrand's previous book, Seabiscuit, wasabout more than a horse, so Unbrokenends up being about more than the punishing wartime experiences of one man.
Louis Zamperini, son of Italianimmigrants, was born in 1917 and grew up in Torrance, California. According toHillenbrand, he was "untamable" in childhood, picking up smoking atage 5 and drinking at 8. He seemed to be headed for a life of crime until hisolder brother, Pete, began coaching him in track. Louie, a naturally giftedrunner, immediately started winning meets and breaking records, and he ended uprepresenting the United States in the 5000-meter race at the 1936 Olympics inBerlin. He didn't win, but his performance impressed Hitler, who asked to meethim.
Louie's dreams of medaling atthe 1940 Olympics were of course dashed by the war. As an Army Air Forcesbombardier, Louie—under the assured flying of Russell Allen Phillips, pilotinga B-24—participated in a number of combat missions in the Pacific theater. Butit was a rescue mission that sent Louie, Phillips, and nine other men into theair on May 27, 1943, searching for a B-24 that had gone down. When their planecrashed in turn, only Louie, Phillips, and one other man, a tail gunner namedFrancis "Mac" McNamara, survived.
Hillenbrand describes the men's 47-day ordeal at sea inwrenching detail, including the constant circling of sharks, an attack by aJapanese bomber on the 27th day, and Mac's death on the 33rd. By the time theyreached land, having drifted 2000 miles to the Marshall Islands, each man hadlost at least half his body weight. While Louie and Phillips were treatedkindly by the stunned Japanese who found them, they were soon transferred toKwajalein, nicknamed Execution Island, where, separated into tiny, sweltering,dark cells teeming with lice, mosquitoes, and maggots, Louie actually"missed the raft."
As Unbroken recounts the trials that Louie faced during and after thewar (much of the narrative is based on interviews with him), Hillenbrand oftenpulls back to paint a broader picture. An exhaustive researcher, she provides contexton everything from wartime flight (in the Pacific theater, "for everyplane lost in combat, some six planes were lost in accidents," and searchplanes may have been more likely to go down than to find the men they weresearching for) to the neglected stories of Pacific POWs. "Of the 34,648Americans held by Japan, 12,935—more than 37 percent—died. By comparison, only1 percent of Americans held by the Nazis and Italians died," she writes,explaining that the Japanese contempt for POWs was rooted in a cultural beliefthat "to be captured in war was intolerably shameful."
Hillenbrand also paces the bookexpertly, inserting affirming moments of grace and heroism just when thenarrative is getting unbearably grim. She describes the kindnesses of several Japaneseguards and POWs—including Louie, who once gave his ration to a critically illfriend, calling it "the hardest and easiest thing he ever did." Shealso details the "humming underground of defiance" that existed atthe camps, the risky acts of rebellion through which captives communicated warnews to each other and stole food. Louie was even able to keep a diary with atiny book made of flattened rice paste sewn into pages.
Now 93, the remarkable Zamperini has outlived his siblings,his wife, and most everyone he served with. His first years home were cloudedby nightmares, heavy drinking, and an obsession with revenge, and he credits aconversion at a revival led by a young Billy Graham with turning his lifearound. Louie (who told his own story in a 2003 autobiography, Devil at My Heels)eventually founded a camp for troubled boys. He has visited Japan and met withsome of his former captors. He's carried the Olympic torch at five differentGames. The book includes a photograph of him riding a skateboard at 81.
But, as Hillenbrand seems toacknowledge by dedicating Unbroken to"the wounded and the lost," the book is haunted by the presence ofthose who didn't survive the war. In Louie's cell at Execution Island someonehad carved the names of nine marines who'd been captured there and, Louielearned, executed. He carved his name alongside theirs but, of course, met adifferent fate. While Louis Zamperini is probably—and deservedly—about tobecome as well known as Seabiscuit, it's difficult to read Unbroken without thinking of all the lives cut short and storiesnever told.