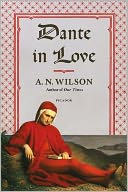 Dante Alighieri died sometime during the night of September 13-14, 1321. The famous 700-year-old poetry may be immortal, says A. N. Wilson in his Dante in Love (2011), but it might as well be dead, even for "the intelligent general reader of the twenty-first century — that is to say, you." In his "guidebook" through the politics, mythology, and religion Dante took for granted when writing his Divine Comedy, Wilson tries to equip and encourage that general reader. The poem is "one of the supreme aesthetic, imaginative, emotional and intellectual experiences on offer," says Wilson, and its non-readers are "like people who have never attended a performance of Mozart's Don Giovanni, or of King Lear, never heard a Beethoven symphony, never visited Paris. Quite definitely, they are missing out."

On, for example, the following excerpt from Canto XIX of the Inferno, describing a moment during the tour of the Eighth Circle of Hell. Circles Eight and Nine are the last and worst, reserved for those who commit some sort of Fraud. As Simony (the selling of church favors for material gain) turns Christian living upside down, so Dante punishes the Simoniacs by having the fire dance over their feet as they stand upside down in rock holes:
Out of the mouth of each one there protruded
The feet of a transgressor, and the legs
Up to the calf, the rest within remained.

In all of them the soles were both on fire;
Wherefore the joints so violently quivered,
They would have snapped asunder withes and bands.

Even as the flame of unctuous things is wont
To move upon the outer surface only,
So likewise was it there from heel to point.

The translation is by Henry Wadsworth Longfellow, who with James Russell Lowell, Oliver Wendell Holmes, Charles Eliot Norton, and others founded the first Dante Society in America. In Mathew Pearl's bestselling literary mystery, The Dante Club (2003), Holmes recalls the fate of the Simoniacs when searching for a clue to the first Dante-driven murder in the novel:
Holmes stopped in the middle of the street and envisioned the preacher kicking his flaming feet in the air, while the flames moved…. " 'Dai calcagni a le punte,' " Holmes whispered aloud: From their heels to their toes — that's where the corrupt clerics, the Simoniacs, burn forever in their craggy ditches. His heart sank. "Dante! It's Dante!"
---
Daybook is contributed by Steve King, who teaches in the English Department of Memorial University in St. John's, Newfoundland. His literary daybook began as a radio series syndicated nationally in Canada. He can be found online at todayinliterature.com.