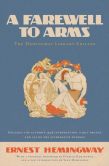 …But after I got them to leave and shut the door and turned off the light it wasn't any good. It was like saying good-by to a statue. After a while I went out and left the hospital and walked back to the hotel in the rain.
–the concluding lines of Ernest Hemingway's A Farewell to Arms, published on this day in 1929
Hemingway scholars document some forty different manuscript endings, all of them included in the recent edition of the novel published by the Hemingway Library. Common to "The Religious Ending," "The Live-Baby Ending," "The Morning-After Ending," "The Funeral Ending," and all the others is the death of Catherine Barkley, "The Nada Ending" being perhaps the bleakest: "…That is all there is to the story. Catherine died and you will die and I will die and that is all I can promise you."

F. Scott Fitzgerald sent Hemingway six pages of manuscript comments, including the advice that the novel should end with an earlier paragraph from "one of the most beautiful pages in English literature":
You learn a few things as you go along and one of them is that the world breaks everyone and afterward many are strong at the broken places. Those that it does not break it kills. It kills the very good and the very gentle and the very brave impartially. If you are none of these you can be sure it will kill you too but there will be no special hurry.
Hemingway's manuscript shows that he experimented with "The Fitzgerald Ending" — sometimes called the "Kiss My Ass Ending" after the annotation Hemingway scrawled next to his friend's advice."
---
Daybook is contributed by Steve King, who teaches in the English Department of Memorial University in St. John's, Newfoundland. His literary daybook began as a radio series syndicated nationally in Canada. He can be found online at todayinliterature.com.