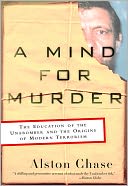 The FBI began their seventeen-year hunt for Ted Kaczynski, the Unabomber, on this day in 1979, when American Airlines reported a failed bomb aboard a flight from Chicago to Washington, D.C. Investigators working on the airline bomb soon discovered that two letter bombs had recently exploded at Northwestern University; when another letter bomb, this one injuring the president of United Airlines, exploded in June 1980, the FBI formed the Unabom Task Force — "Un" for universities, "a" for airlines, "bom" for bomb — and began one of the longest and costliest manhunts in their history.

The larger search for the motives behind Kaczynski's terror campaign leads us, says Alston Chase in A Mind for Murder, from the Unabom acronym to the CIA cryptonym MKUltra. Most of the records for this covert, illegal, decades-long experimentation in behavioral engineering were destroyed by the CIA in 1973, but some of the surviving documents, declassified in 2001, reveal an alarming link to Kaczynski. While an undergraduate at Harvard, he volunteered to undergo years of MKUltra experiments, these run by the pioneering but unstable psychologist Henry Murray. Exactly what Kaczynski was subjected to is unclear — MKUltra experiments could include the undisclosed use of drugs (most often LSD), hypnosis, sensory deprivation, and various kinds of verbal and physical abuse — but he later described the experience as "highly unpleasant." Chase goes much further, describing the unethical experiments, the product of a cynical academic environment, as a crucial factor in taking Kaczynski over the edge:
It was at Harvard that Kaczynski encountered the culture of despair and found the ideas he would put into [his] manifesto. It was there that he became a true believer in the scientific method and its philosophy, positivism, which allowed him to think that morality was meaningless. It was there, by his own admission, his developing alienation bloomed into disillusionment with society. It was there that he endured Professor Murray's deceptive experiments — an experience that triggered a suspicion of psychology and "the system" of which it is a part…
Kaczynski certainly had family problems, and his manifesto would have us believe he had lofty, countercultural motives. Too, the MKUltra program, established at some eighty other universities and institutions across America, produced no other Unabombers. But Kaczynski was only sixteen when he entered Harvard; Ken Kesey, by comparison, was twenty-five when he volunteered for the MKUltra drug experiments, which he reportedly enjoyed. He, too, would drop out, but to write fiction and go Further, not to settle broodingly in the woods.
---
Daybook is contributed by Steve King, who teaches in the English Department of Memorial University in St. John's, Newfoundland. His literary daybook began as a radio series syndicated nationally in Canada. He can be found online at todayinliterature.com.