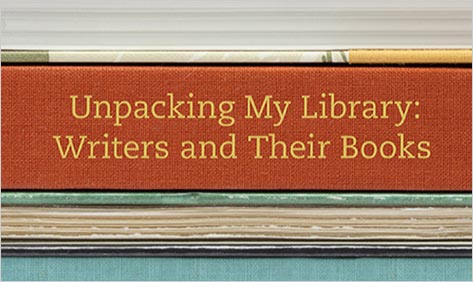 Judge it by its cover, and Unpacking My Library: Writers and Their Books clearly falls into the category of the coffee-table book. Such books are usually unpretentious — it's rare to see one from a university press — but they have a definite semiotic purpose: they are meant for display, and they communicate something about the person who displays them. A glossy, photo-filled book about, say, Ireland will almost always belong to someone who loves going there and talking about their trips; a book about dogs is an invitation to compare puppy stories. Unpacking My Library consists of interviews with thirteen prominent writers about their book collections, along with photos of their shelves: it is a book about books, and to buy, give, or receive it is to declare an allegiance to bookishness.

Which is why, despite its charming appearance, there is something unsettling and elegiac about Unpacking My Library. "In Google's Cambridge office," writes editor Leah Price in her introduction, "a dozen flat strips of plywood are fixed to the wall at right angles to equally flat vertical strips of paper, each bearing the title of a book. These strips were once the spines of books; the volumes from which they were sliced have been disbound for scanning. Like taxidermists' trophies, the wall attests a successful slaughter." It is a vivid metaphor for the way printed books, the physical objects we have known for 500 years, are going the way of the telegram — or, to use Price's image, the dodo bird.

Even as e-book sales start to outnumber sales of print books, however, the writers Price interviews declare a steadfast allegiance to paper and ink. Fittingly, it is Steven Pinker, the only scientist in the group, who bucks the trend: "I sometimes flip between reading a single book in iPhone, iPad, and paper incarnations, depending on where I am at the time…. [I don't] fetishize the physical medium of books." On the other end of the spectrum is the novelist Claire Messud, who has a bodily relationship with her printed volumes: "I like best to read in bed, lying down, on my side, the way I read when I was a kid: I can't imagine going to bed with a cell phone or an iPad."

One of the advantages of the book, Price's interviewees suggest, is this kind of continuity over a lifetime: the physical object becomes a bearer of memory. Each writer is asked to choose his or her top ten books, and often these are old, battered, but cherished volumes. Sophie Gee has two coverless paperbacks on her list, while Stephen Carter includes a copy of Mathematics for the Million, a 1940 edition of Lancelot Hogben's classic work of popular mathematics that "I loved taking down from my father's shelves." The literary couples interviewed by Price — including Gee and Lev Grossman, Messud and James Wood, and Pinker and Rebecca Goldstein — agree that they can instantly remember which partner brought which book into the relationship.

Books are tokens of identity — which is why most of these writers declare their reluctance, or inability, to throw out a book. Yet when Price asks them what they think will happen to their libraries after they die, all the writers here are resigned and realistic: "I'm sure that after my death my books will be scattered just like my clothes and furniture," says Edmund White. If our books are our second bodies, dissolution is inevitable. What is hard to imagine is a future in which we have no bodies at all.


---
FOOTNOTES


El Bulli, the chef Ferran Adrià's temple of molecular gastronomy, closed its doors last year amid much lamenting by gourmets. But the high-tech methods pioneered there have begun to transform the way many chefs work. In The Kitchen as Laboratory: Reflections on the Science of Food and Cooking (Columbia), thirty-three chefs contribute essays on the physics and chemistry behind the dishes they prepare.
In the nineteenth century, whales were seen as mobile fuel deposits, and they were hunted and butchered on an industrial scale. Today, every advanced country agrees on the urgent need to "save the whales," and no species is more doted on. In The Sounding of the Whale: Science and Cetaceans in the Twentieth Century (Chicago), D. Graham Burnett writes the cultural and scientific history of mankind's changing relationship with whalekind.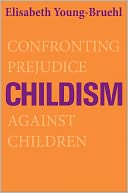 Everyone knows that racism and sexism are evils. But is there such a thing as widespread, systematic prejudice against children? In Childism: Confronting Prejudice against Children (Yale), the late Elisabeth Young-Bruehl argues that, as individuals and as a society, we continually act against the best interests of children, and she lays out the case for reform.