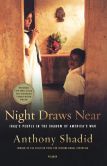 Saddam Hussein was captured ten years ago today. In Night Draws Near: Iraq's People in the Shadow of America's War, New York Times foreign correspondent Anthony Shadid describes standing outside a Sunni mosque in the tumultuous days after Saddam's capture, when several young men moved through the crowd distributing a leaflet entitled "The Disaster of the Occupation and the Duties of the Islamic Nation":
The unsigned flyer — printed on both sides — threatened those cooperating with the occupation, urged support for the resistance, and warned against informing to U.S. forces. Fighting the occupiers, it said, was a religious principle, and individual duty incumbent on every Muslim. Everyone reading the leaflet was urged to make ten copies and distribute them to others. "When God sees us in this condition, he will rescue us from the infidel and the enemy."

As the men left the mosque, many folded the leaflet and placed it in their pockets.
The consequences of this call to turn the jihadist spirit inward, against those Iraqis who helped the occupation, is the subject of Kirk W. Johnson's just-published To Be a Friend Is Fatal: The Fight to Save the Iraqis America Left Behind. An appeal to U.S. authorities to do the right thing by rescuing those now in danger, Johnson's book opens with the story of Yaghdan, an American collaborator who wakes to find on his doorstep the severed head of a dog, with a note telling him that he would soon lose his own head.
---
Daybook is contributed by Steve King, who teaches in the English Department of Memorial University in St. John's, Newfoundland. His literary daybook began as a radio series syndicated nationally in Canada. He can be found online at todayinliterature.com.