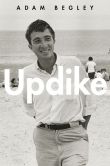 On this day in 1932 John Updike was born. In a writing career of almost fifty years, Updike's five Rabbit books stand out as a bell tolling, at decade intervals, for Harry "Rabbit" Angstrom and America. As Joyce Carol Oates puts it, the saga stands as Updike's "surpassingly eloquent valentine to his country, as viewed from the unique perspective of a corner of Pennsylvania."

That corner is Reading, where Updike was born, and nearby Shillington, where he lived until thirteen. In Self-Consciousness, his 1989 memoir, Updike describes himself as a writer "who had all of Shillington to say, Shillington and Pennsylvania and the whole mass of middling, hidden, troubled America to say…some terrible pressure of American disappointment, that would take a lifetime to sort out, particularize, and extol with the proper dark beauty."

Adam Begley's Updike, the first major biography of the author, is due out on April 8. In his Introduction, Begley recalls meeting his subject and coming away with a "suspicion that the playfully mischievous, dazzlingly clever John Updike was a potentially dangerous individual." Begley then cites as evidence a passage from Self-Consciousness in which Updike describes one foray into the Middle America he would chronicle, in this case a university in the Midwest:
I read and talked into the microphone and was gracious to the local rich, the English faculty and the college president, and the students with their clear skin and shining eyes and inviting innocence, like a blank surface one wishes to scribble obscenities on.
---
Daybook is contributed by Steve King, who teaches in the English Department of Memorial University in St. John's, Newfoundland. His literary daybook began as a radio series syndicated nationally in Canada. He can be found online at todayinliterature.com.