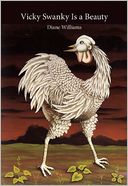 At first glance, Diane Williams appears to be the love child of Donald Barthelme and Kathy Acker. At second glance, she resembles the adopted daughter of Gertrude Stein and Carol Emshwiller. At third and subsequent glances, she resolves as uniquely, enigmatically herself: a Delphic jester uneasily inhabiting some generic suburbia totally incompatible with her gnomic utterances.
The fifty-one tiny stories (vignettes? prose poems? blipverts? flash fictions?) contained in Vicky Swanky Is a Beauty resolutely refuse total decryption. But they burrow into the reader's subconscious and sprout odd blossoms. Perhaps presenting one of the more miniature ones in its entirety might be the best way of conveying their strange flavors.
The Use of Fetishes




"I was a lucky person. I was a very successful person," said the woman. She was not entirely busy with her work. She took cups and tumblers from her cupboard to prepare a coffee or a tea. She thought, We have some smaller or even smaller.

Her Uncle Bill said, "Have you been able to have sexual intercourse?"

She said, "Yes! And I had a climax too!"

This idea is compact and stained and strained to the limit.
In the narrow confines of this Lilliputian account, we find chewy kernels of domesticity, identity, capitalism, sexuality, etiquette, consumerism, artistry, and taboo behavior. If we add the themes of motherhood, marriage, female rivalry, the duties of children to their parents, social status, violence, illness, and bodily horror, we will have a fairly complete set of Williams's preoccupations, all expressed in this elliptical manner, couched in prose of the utmost clean-lined simplicity which nonetheless is filled with rich cadences and patternings, as well as non-sequiturs and oddly misplaced clauses, distant from their natural anchors. "She's so wrongly old and I'm her daughter, but can she still have children?" ("Common Body")
Williams's stories sometimes attain more of a conventional narrative. A piece like "My First Real Home," which describes a quirky fellow whose hobby is sharpening knives, could almost be an NPR featurette, except for its off-kilter hints of magic and otherworldliness. Likewise, "Protection, Prevention, Gazing, Gratified Desire" might be an Angela Carter fairy tale, save for its Marx Brothers non-linearity and surreal twists and turns.
Mostly, though, Williams's fictions inhabit a looking-glass world where time and space, personality and history, are fluid and distorted. In "Comfort" we witness this: "Getting routine matters out of the way, she attained riches, social position, power, studied for an hour or so, cleaned up, took the family to a movie, after which she forecasted her own death with a lively narration that gave her gooseflesh." A potted biography or a whole lifetime, lived in a jagged, jigsaw manner.
Although Williams's characters seem to be mostly enacting tragedies, they do so in a droll and wry fashion, and this book might be accounted, if not a barrel of laughs, then at least a mordant good time in the same way that Kafka was reputed to deem his own stories humorous.
If Eugene Ionesco had been a woman and written The Yellow Wallpaper, Diane Williams would have been that writer.
---

Paul Di Filippo's column The Speculator appears monthly in the Barnes & Noble Review. He is the author of several acclaimed novels and story collections, including Fractal Paisleys, Little Doors, Neutrino Drag, and Fuzzy Dice.