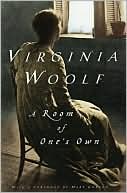 Virginia Woolf's A Room of One's Own turns eighty today — eighty-one, if we count not from the Hogarth Press October 24, 1929 publication date but the previous October, when Woolf first delivered the text as a two-part talk to a goup of female college students. The talk coincided with the trial of Radclyffe Hall's lesbian novel, The Well of Loneliness, at which Woolf testified in Hall's defense. The trial and the female college setting provide a general backdrop to Woolf's text, but they come to the foreground when she imagines discovering a new kind of writing by a future novelist named Mary Carmichael. A skeptical reader, Woolf first decides to get a bearing on Carmichael's style — "before I load my memory with blue eyes and brown and the relationship that there may be between Chloe and Roger." But Carmichael is no hack, and no ordinary romancer. Her sentences are not like Jane Austen's but short and scratchy, if not entirely effective — "like a person striking a match that will not light." And then suddenly, in a passage which hints at Woolf's personable style and the fun her original audience must have had, fire:
And, determined to do my duty by her as reader if she would do her duty by me as writer, I turned the page and read . . . I am sorry to break off so abruptly. Are there no men present? Do you promise me that behind that red curtain over there the figure of Sir Charles Biron [the hostile judge at the Well of Loneliness trial] is not concealed? We are all women you assure me? Then I may tell you that the very next words I read were these — "Chloe liked Olivia . . ." Do not start. Do not blush. Let us admit in the privacy of our own society that these things sometimes happen. Sometimes women do like women.


In her last paragraph, Woolf famously decides that Mary Carmichael is still in her apprenticeship as a writer, the conditions necessary for her professional arrival not yet present:
Give her another hundred years, I concluded, reading the last chapter … give her a room of her own and five hundred a year, let her speak her mind and leave out half that she now puts in, and she will write a better book one of these days. She will be a poet, I said, putting Life's Adventure by Mary Carmichael at the end of the shelf, in another hundred years' time.
---
Daybook is contributed by Steve King, who teaches in the English Department of Memorial University in St. John's, Newfoundland. His literary daybook began as a radio series syndicated nationally in Canada. He can be found online at todayinliterature.com.