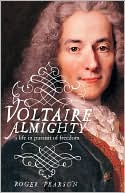 On this day in 1694 Voltaire (Francois Marie Arouet) was born. Few could have predicted his Age-defining stature, but apparently the young Voltaire showed every sign of making a career from toppling rather than upholding the idea of received authority. As a teenager in Paris, Voltaire was so fond of the freethinking "libertins" that his father had him removed to Caen and then the Netherlands, for instruction in the political arts. This did not work, nor did attempts to become a lawyer – these encouraged by father's threats of sending him to the West Indes or even prison, by way of a lettre de cachet. At age twenty-one he was exiled from Paris for five months, having stepped on the wrong toes with some satiric verses about the decadent life at Versailles. Six months later he was arrested again for similar offences, this time put in the Bastille. But both the decadence and the decadence-pointing could be something of a game in the eighteenth century – Dangerous Liaisons, by Choderlos de Laclos, was published in 1782, four years after Voltaire's death – and Voltaire took prison in stride, according to biographer Theodore Besterman:
When arrested Voltaire bantered the officers, sympathised with them for having to work on a holiday, hoped that he would not be deprived of his milk, expressed delight at this opportunity to see again a place he knew so well from his visits to the duc de Richelieu (who had also met with this fashionable fate), and hoped that he would not be freed too soon.
It is hard to find a portrait in which Voltaire is not smiling, or a paragraph in which he is not provocative. His chief target in Candide is the philosophy of simple-minded rationalism and status quo optimism advocated by many in the 18th century. Voltaire's sunny and superficial Doctor Pangloss is one whose "metaphysico-theologo-cosmolonigology" allows him to smile benignly on an endless, intercontinental catalogue of horrors – rape and slaughter, crime and punishment, earthquake and shipwreck. The good Doctor schools the young Candide and his love, Cunegonde, in the belief "that there is no effect without a cause" and that "all is for the best in this best of all possible worlds." When Cunegonde "observed Doctor Pangloss in the bushes, giving a lesson in experimental physics to her mother's waiting-maid, a very pretty and docile brunette," she hopes to put her lessons to the test:
Mademoiselle Cunegonde had a great inclination for science and watched breathlessly the reiterated experiments she witnessed; she observed clearly the Doctor's sufficient reason, the effects and the causes, and returned home very much excited, pensive, filled with the desire of learning, reflecting that she might be the sufficient reason of young Candide and that he might be hers.
---
Daybook is contributed by Steve King, who teaches in the English Department of Memorial University in St. John's, Newfoundland. His literary daybook began as a radio series syndicated nationally in Canada. He can be found online at todayinliterature.com.