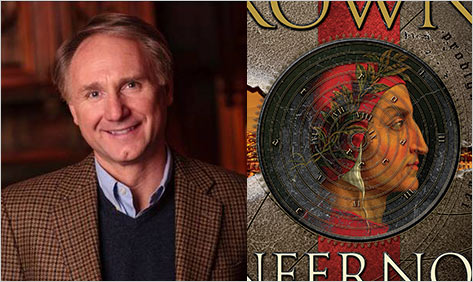 With Dan Brown's latest novel, Inferno, released today, and already garnering critical acclaim and high interest from his avid readership, we had a few questions for the author of The Da Vinci Code and Angels and Demons, as he brings his hero Robert Langdon to grips with another puzzle of a cultural icon and a brainteasing code.
The Barnes and Noble Review: You've said you first read the Inferno in high school. When did you first realize that Dante's work would be the basis for a novel?
Dan Brown: I've known for at least a decade that I would one day write a novel incorporating the world of Dante Alighieri. While researching Angels & Demons and The Da Vinci Code, I was immersed in church history and philosophy. One of the byproducts of that research was my coming to understand that Dante's popularized vision of the afterlife deeply influenced our modern Christian perceptions of hell. The notion of hell certainly existed long before Dante, and yet only in vague terms. The Bible described hell as an underworld of unquenchable fire. Classical mythology was a bit more specific, describing various realms and monsters, but it wasn't until Dante published The Divine Comedy that humankind was given a vivid, codified vision of the underworld. Dante described a multi-layered pit of misery where sinners endured specific punishments for specific sins, and this horrifying concept helped solidify hell as the deterrent to sin.
BNR: You researched Dante and the mysteries surrounding his life and work in Florence. What was your most surprising discovery?
DB: For me, one of the most surprising themes of Dante's Inferno is the portrayal of pride as the most serious of the seven deadly sins — a transgression punished in the deepest ring of hell. The notion of pride as the ultimate sin dovetails perfectly with Greek mythology, in which hubris is responsible for the downfall of the archetypal hero. In mythology, no man is more prideful than he who considers himself above the problems of the world… for example, the person who ignores injustice because it does not affect him directly. This notion is reflected in a famous paraphrasing of Dante's text: The darkest places in hell are reserved for those who maintain their neutrality in times of moral crisis. This is a recurring theme of the novel.
BNR: Dante's Divine Comedy is composed in an intricately braided poetic style as it tells the story of a poet's passage through hell, purgatory and paradise. What aspects of his style most influenced you in the writing of Inferno? Did you rely on a particular translation or translations?
DB: The rhythm of Dante's poetry and his use of anaphora (repetition of phrases) does indeed find its way into the novel's "shade" sections and influences the way my villain speaks and writes. Additionally, Dante's use of physical motion to keep his action moving is something I've always tried to do in my novels, and I certainly continued that in Inferno. Regarding translations of Dante's original Italian, one of the great luxuries of writing this book in the digital age was that I was able very quickly and easily to compare multiple translations. At times, I was stunned by how greatly those translations differed. In the end, I found myself relying primarily on two – the translations by [Henry Wadsworth] Longfellow and [Allen] Mandelbaum.
BNR: The images of punishment throughout the Inferno are based on medieval conceptions of sin and its consequences. Do you find them still relevant to themes of good and evil in today's world?
DB: Dante's vision of justice relies on the concept of contrapasso (literally, suffering the opposite)—in a sense, the punishment precisely fits the crime. For example: a fortune teller who sins by seeing the future is punished by having his head placed on backwards so he can only see in reverse; a ruthless man who left another to starve to death is doomed to have his own bloody skull gnawed upon by the man he let starve; an adulterous couple who succumbed to lust is punished by being fused together sexually for all eternity without ever being satisfied. Today, in most cultures, the notions of contrapasso and "an eye for an eye" have disappeared, which may be one of the reasons that modern readers find Dante's brutal punishments so fascinating.
BNR: Although Dante wrote his epic hundreds of years before Leonardo da Vinci, the two men are connected by their shared Florentine heritage. Do you see any similarities between the two?
DB: Beyond being fellow Florentines, Dante and Leonardo share an elite spot in the pantheon of artistic giants. Both The Divine Comedy and Mona Lisa are examples of those rare human achievements that transcend their moments in history and become enduring cultural touchstones. Both masterpieces continue to speak to us centuries after their creation and are considered examples of the finest works ever produced in their respective fields. Like Leonardo, Dante had a staggering influence on culture, religion, history, and the arts. In addition to codifying the early Christian vision of Hell, Dante inspired some of history's greatest luminaries — Longfellow, Chaucer, Borges, Tchaikovsky, Liszt, Monteverdi, Michelangelo, Blake, Dalí — and even a few modern video game designers.
BNR: Dante placed himself at the center of his poetic epic — but he also called upon a figure from the classical world, the poet Virgil, as a trustworthy guide on his journey into darkness. Have you provided Robert Langdon with a Virgil?
DB: Over the course of Langdon's adventure, he encounters numerous characters that have counterparts in Dante's Inferno. Some of these characters are overt. Others are more obscure. I'm hoping that some of the fun will be debating the parallels between Virgil's descent and Langdon's.
BNR: The opening of Inferno leaves us with tantalizing references to places and ideas that — one hopes — will be illuminated as the novel unfolds. Do you begin writing with the notion of implanting mysteries for your readers, or does that come later, as the story develops?
DB: Before I begin writing any novel, I complete an extensive outline (the outline for The Da Vinci Code was over one hundred pages). Once I have a clear sense of the arc of the novel, I begin each chapter by deciding not what I'll offer the reader, but rather what I'll withhold. A reader's desire to guess what I've hidden is always more exciting than anything I can show.
BNR: When we first encounter Robert Langdon in Inferno, he's in a place his work has made very familiar to him, but he's been plunged into truly unknown waters. When first you planned your new book, did you know you'd be making life this difficult for your hero?
DB: Absolutely. Only by placing Langdon in a difficult position does he have a chance to be a hero.