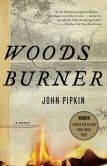 Twenty-six-year-old Henry David Thoreau accidentally set fire to 300 acres of the Concord woods on this day in 1844. Thoreau had taken a few days off from the family pencil-making business and set out down the Sudbury River with a friend. A spark from their first fire, a noonday fish fry — this courtesy of a borrowed match, as they had forgotten to pack their own — ignited the dry shoreline grass. When stomping and whacking the flames didn't work, the friend went for help and Thoreau, after a little more futile effort, climbed a nearby cliff to observe the scene while he waited for the firefighters. Thoreau describes the event in his journal, but not until four years later. By this time, he had been to the Walden woods and back, and gained a predictable perspective:
Hitherto I had felt like a guilty person, — nothing but shame and regret. But now I settled the matter with myself shortly. I said to myself: "Who are these men who are said to be the owners of these woods, and how am I related to them? I have set fire to the forest, but I have done no wrong therein, and now it is as if the lightning had done it. These flames are but consuming their natural food." …When the lightning burns the forest its Director makes no apology to man, and I was but His agent.
Although the local newspaper report did not name names, it did comment on "the thoughtlessness of two of our citizens" and hoped "that this unfortunate result of sheer carelessness, will be borne in mind by those who may visit the woods in future." Thoreau notes that some in Concord kept pointing fingers and jeering at him for years afterward, without satisfaction: "I had a deeper interest in the woods, knew them better and should feel their loss more…. I have had nothing to say to any of them."
---
Daybook is contributed by Steve King, who teaches in the English Department of Memorial University in St. John's, Newfoundland. His literary daybook began as a radio series syndicated nationally in Canada. He can be found online at todayinliterature.com.