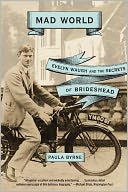 Evelyn Waugh's A Handful of Dust, on several end-of-century Top 100 lists, was published on this day in 1934. Waugh took the title for his novel from a line in T. S. Eliot's The Waste Land: "I will show you fear in a handful of dust." In Brideshead Revisited, Waugh returns to the same poem, sending Anthony Blanche out on an Oxford balcony to stutter a few lines from it. Waugh's biographers point out a particular connection to Eliot. Early in life, Waugh liked to associate himself with Eliot's avant-garde style; in his late twenties, Waugh became a Catholic, as Eliot in his late twenties became Anglican; and later in life, both authors wrote often in support of preserving and improving Britain's crumbling class system.

Waugh portrayed Tony Last, the ossified country squire at the center of A Handful of Dust, as one of that system's most doomed representatives. When we first meet him, Last is living in blinkered bliss at Hetton Abbey, a rambling Victorian mansion renovated in tasteless neo-Gothic style. When we last see him, he is dying a slow death deep in the Amazon jungle as prisoner of Mr. Todd, the madman-tyrant of a settlement of Pie-wie Indians. Mr. Todd has a beloved set of Dickens novels; it is his passion to hear them read aloud, and he decrees that Last do so until he is told to stop.

In Mad World (2010), Paula Byrne pursues the autobiographical connections between Waugh, Last, and Brideshead Revisited's Charles Ryder. One link, says Byrne, is Madresfield Court, much of its architecture used as model for both Hetton Abbey and Brideshead Castle, many of its inhabitants used as model for his characters — notably, the gay Lord Beauchamp, squire of Madresfield, inspired Tony Last; and Beauchamp's gay son, Hugh Lygon, one of those with whom Waugh had an affair while at Oxford, inspired Brideshead's Sebastian Flyte. Byrne's title plays off Madresfield's informal name of Mad Court or "Madders"; her title is also inspired by the nervous breakdown of Waugh's later years:
He went mad, began hearing voices in his head. One of them kept telling him that he was homosexual. He wasn't — he loved women too much for that — but there is no question that the creator of Sebastian Flyte and admirer of Lord Beauchamp had one of the great bisexual imaginations of the English literary tradition.
---
Daybook is contributed by Steve King, who teaches in the English Department of Memorial University in St. John's, Newfoundland. His literary daybook began as a radio series syndicated nationally in Canada. He can be found online at todayinliterature.com.