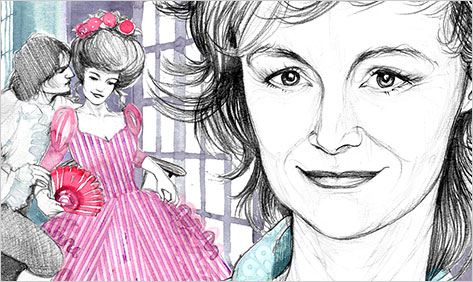 Everyone can identify a hero: he's feisty and fearless, ready to leap to the heroine's aid in a single bound, Superman without the tights (unless he's a Regency duke, in which case, on with the tights). But what if the heroine is no Lois Lane? In fact, what if she's the chief of police and views the hero's epic feats with a distinctly jaundiced eye? What if she stands on higher moral ground—and steals the heroic limelight?
Meljean Brook's The Iron Duke is one of the most imaginative books I've read in quite a while. It's a "steampunk" romance, which means that it's set in a pseudo-Victorian Britain, in which bustles jostle with steam-powered machinery, and sci-fi intersects historical romance. Brook's world is deeply original, but it's the Duke of Anglesey who catches the reader's attention. A pirate who saved England from the domination of the evil Horde (nightmarish alien invaders), Rhys is the terror of the seven seas: "hard and as handsome as the caricatures had portrayed—altogether dark and forbidding." When a dead body is dropped on his lawn, Lady Wilhelmina Wentworth, detective inspector, is sent to investigate. Rhys is a British icon, but it's Mina who is the hero of this novel, Mina who saves Rhys's life more than once. She's a smart, funny version of Sam Spade, a woman who not only doesn't tremble before Rhys, but stands at his side and, often, in front of him.
Christine Warren's Prince Charming Doesn't Live Here is set in a world very different from Brook's Victorianesque England—but with as many twists. Dancie Carter, a junior lawyer at one of Manhattan's best law firms, jumps to attention when a senior partner asks her to uncover the name of his impending grandchild's father, so the man can be served with a paternity suit. But Dancie can't even find his daughter, and neither can the hunky McIntyre Callahan, a private investigator looking for the same woman. Mac is no ordinary sleuth; he's half-Fae, minus the fluttering wings, "six feet tall, with the kind of whipcord-lean frame that left no one in doubt of his strength." Mac is set up to be the Sam Spade of the novel, but it's Dancie who excels in sarcastic wit ("I'm so sorry I'm not up on the intricacies of the Tinker Bell set"). And it's Dancie who reaches beyond the ordinary: she "realized that somewhere deep down inside her…something like a streak of heroism had been lurking, waiting for this moment to strip her of all sanity and make her throw herself in front of the proverbial bullet."
Linnea Sinclair's Finders Keepers features another female descendant of Dashiell Hammett's sardonic hero in a science-fiction setting. From all appearances, Rhis Vanur is the ultimate hero: the fearless and fearsome captain of a spaceship, the only man ever to escape from the warlike 'Sko. He was born and bred to save the empire, and he has a hero's scars to prove it. But when Rhis crashes on a deserted planet, he's the one who needs saving, and Trilby Elliot, a wisecracking, brilliant pilot, steps forward. She manages to patch together her broken-down, ancient spaceship, and get Rhis and herself off-planet. When the 'Sko target both of them, the supposedly heartless Rhis finds that not only does he have a heart, but he just lost it to Trilby. And, even more importantly, Rhis discovers that he's not the only hero in deep space; Trilby is as tough and as brilliant as he—and perhaps a tad more ethical. Heroism, after all, demands not just strength but also idealism. Trilby's ability to see past racial prejudice, in a world whose social order puts Rhis at the very bottom, is nothing short of heroic.
Like Rhis, the hero of Emma Wildes's His Sinful Secret is a man wearied by battle. After fighting the French in Spain, Michael is now a spy for Britain, less from patriotism than from the idea that he's keeping faith with the men he lost in battle. Disillusioned and wounded, he's not a man who contemplates marriage. But when Michael inherits the title of Marquess of Longhaven from his older brother, he also inherits his brother's fiancée. For her part, Julianne Sutton is shocked to find herself married not to her cheerful, happy-go-lucky fiancé, but to a broody, rather mysterious stranger. Here, as in Finders Keepers, obvious heroism takes a back seat to difficult ethical choices. In order to shield the memory of Michael's feckless older brother, Julianne finds herself embroiled in a dangerous set of schemers, and even risking her life. Michael comes to the rescue—but it's Julianne who has stepped outside her comfort zone in order to do the right thing, as they say. Her stalwart moral courage puts Michael's tarnished idealism into sharp focus.
Jillian Hunter's A Duke's Temptation also pits a physically heroic hero against a morally heroic heroine. To most of Regency England, Samuel Aubrey, Duke of Gravenhurst, is a weary, sarcastic rake; in secret he's an author of wildly exciting romances. Hunter is a master of witty dialogue and off-kilter, original characters, and she's at the top of her game when Samuel, dressed as Don Quixote, runs into Miss Lily Boscastle at a costume ball. Samuel is the novel's obvious hero, sword and all, but Lily steps to the fore. After witnessing a murder, she refuses to give in to pressure and (heroically) insists that the crime be investigated. In the ensuing scandal she loses her fiancé, her parents, and her status in society, and finds herself a housekeeper in Samuel's castle. When the murderer finally reveals himself, Samuel saves Lily's life, but it's she who has put justice for a dead man before her own comfort. A Duke's Temptation weighs heroic deeds against moral courage; both Lily and Samuel have their day.
There's a dream in these novels that pervades our culture. David Bowie wistfully longs for the day when he would be king, and "you" would be queen: we'll both be "heroes for just one day." These are novels that dissect the meaning of the word—and the activities of that one day. Would "we" spend it fighting off evil characters, other-worldly or domestic? Or would "we" stand up for what's right, in the face of everyone and everything we respect?
---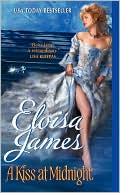 Please stop in to join our scintillating conversation about romances and chat with Eloisa James in the Romantic Reads Book Club. And please do check out Eloisa's past columns in the Archives, and if you'd like to get her reaction to romances as she reads them, follow her on Facebook or Twitter. If you'd like a peek at Eloisa's own romances, please visit her web site at www.eloisajames.com.
And don't forget the Barnes & Noble daily romance blog, Heart to Heart, where readers chat about the hottest news in the world of romance, from favorite authors to scorching love scenes.
Eloisa James's new novel A Kiss at Midnight is now available in paperback and eBook editions.
And, coming later in December, don't miss The Lady Most Likely, in which Eloisa joins forces with bestselling authors Julia Quinn and Connie Brockaway.