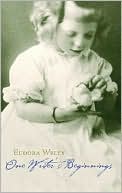 Eudora Welty was born in Jackson, Mississippi, on this day in 1909. Welty lived in Jackson all her life, for over seventy years in the home into which her family moved when she was in her late teens. Her memoir One Writer's Beginnings is rooted in a sense of home and place — roots conducive to true adventure, she claims in her final sentences: "As you have seen, I am a writer who came of a sheltered life. A sheltered life can be a daring life as well. For all serious daring starts from within."

The following passages from One Writer's Beginnings describe a double lesson in love, learned in stages. First, the child learns from her mother why she cannot have the nickels she has found in her mother's drawer, alongside an arm-length switch of chestnut-colored hair:
Then she sat down, drew me to her, and told me that I had had a little brother who had come before I did, and who had died as a baby before I was born. And these two nickels that I'd wanted to claim as my find were his. They had laid on his eyelids, for a purpose untold and unimaginable….
Then the older Welty recollects hearing the story of how her mother almost died along with the baby (her long hair had been cut at this time), and how her distraught father had decided that she could be revived with champagne. This was unavailable in Jackson, so he telephoned an Italian farmer he knew some forty miles away, telling him that if he hurried he could put a bottle of his champagne on the next train:
My father would be waiting to meet the train in Jackson. Mr. Trolio did — he sent the bottle in a bucket of ice and my father snatched it off the baggage car. He offered my mother a glass of chilled champagne and she drank it and kept it down. She was to live, after all.
Much of Welty's correspondence remains sealed until 2021. It may reveal clues as to why, especially given her parents' example, she chose to remain single; or it may not:
Interviewer: Why didn't you ever marry?
Welty: I wasn't brought up to answer questions like that. And I don't think you were either.
---
Daybook is contributed by Steve King, who teaches in the English Department of Memorial University in St. John's, Newfoundland. His literary daybook began as a radio series syndicated nationally in Canada. He can be found online at todayinliterature.com.