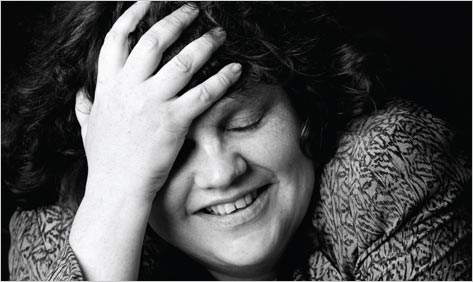 "O Fame! Fame! Thou glittering bauble!" Captain Hook cried heartrendingly in J. M. Barrie's Peter Pan. We laugh; but as every sane person knows, Hook was on to something. The personal price exacted from the famous is punishing, and countless celebrities from Barrie's day to our own have had misgivings like Hook's.

One such, certainly, was the late playwright Wendy Wasserstein. Both her career and personal life (if these two can be disentangled in her case) consisted of an uneasy balancing act between her relentless striving for the spotlight and a simultaneous revulsion from its glare. Wasserstein was determined to control her own narrative, seldom an easy task for any public figure. As Julie Salamon observes in her penetrating new biography of the dramatist, Wendy and the Lost Boys, Wasserstein "became a celebrity by turning her life over to the public domain." When it came to her wide social circle, however,
She was as covert as a spy, parceling out information to a host of confidants, allowing each of them to believe that he or she alone had access to the inner sanctum. Only later did they realize that Wasserstein had constructed her life as a giant game of Clue, full of hidden connections and compartmentalized players. She used humor as a dodge, intimacy as a smoke screen.
All true. With so many "best friends" in her life, why did hardly anyone know she was pregnant when she prematurely gave birth to her daughter, Lucy Jane, at the age of forty-eight? And who was Lucy Jane's father, anyway? What was the real nature of Wasserstein's relationships with the numerous gay men she called her "husbands"—colleagues like playwrights Christopher Durang and Terence McNally, producer André Bishop, and costume designer William Ivey Long? When Wasserstein died of lymphoma in 2006, at the age of fifty-five, why hadn't she informed her friends of the gravity of her illness?

All this information might come as a surprise to Wasserstein's devoted fans, who tend to perceive her, via her various fictional alter egos, as warm, confiding, gently cynical, but fuzzy au fond. Heidi in the Pulitzer Prize-winning Heidi Chronicles, Janie in Isn't It Romantic, Pfeni in The Sisters Rosenzweig, Holly in the early Uncommon Women and Others: all these have been welcomed as soul sisters by Wasserstein's (predominantly female) groupies. Salamon accurately describes the writer as "a friendly touchstone" who became loved for her modest self-presentation as much as for her sharp humor. "She didn't preach from above but invited her public to join her perplexed, witty contemplation of the rapidly changing, confusing times in which they lived. Her characters moved in tandem with Baby-Boomers as they aged, helping them—women in particular—sort out the shifting definitions and demands placed on their generation."

Salamon posits—persuasively—that the deep conflicts in Wasserstein's character can be traced to her odd upbringing, specifically to the pressures imposed by her flamboyant mother, Lola: "of miniscule size but a powerhouse contender among legendary heavyweights, Jewish-mother division." Lola had tragedies in her past: close family members had been executed by Nazis back in Poland, and Lola's first husband, George, had died young of a ruptured appendix. But she believed in the powers of denial; if you don't talk about it, it doesn't exist. Thus Wendy and her sister Georgette and brother Bruce (who would grow up to be Bruce Wasserstein the billionaire takeover king) were never informed that their father, Morris, wasn't also the father of big sister Sandy. The kids also weren't told—or at least the fact was hinted at only in a very oblique fashion—that George and Lola had had another child, Abner, who was alive and well in an institution for the mentally disabled. (He appears to have been autistic.) Wendy did not meet Abner until she was middle aged, when she was astounded to discover that he was not the vegetable she had been led to expect but was perfectly competent to talk, write, and communicate: he kept up with his famous sister's and brother's exploits in the press and was consumed with rage and grief at having been abandoned by the family.

In Wasserstein's humorous personal essays Lola comes across as a wacky but basically benign figure. In truth, the demands she placed on her children were relentless and became more so as she and Morris moved up in the world. The family textile business boomed during Wendy's childhood in the 1950s, and the Wassersteins branched out into real estate. Wendy's early years were spent at Yeshivah of Flatbush, but by the time she entered high school the family had moved to Manhattan's Upper East Side; she attended the Calhoun School for girls, moving on, eventually, to Mt. Holyoke.

In the fall of 1967 the feminist movement was in full swing, but the Mt. Holyoke campus seemed hardly ruffled by these winds of change: the incoming class "didn't find the all-female intellectual citadel they had anticipated, and certainly not a campus fomenting radical thought. Instead they encountered a hothouse of girlieness, stuck in the 1950s, filled with bright women who seemed desperate to land a husband." Wasserstein and her classmates were caught awkwardly between two generations, two vastly different eras. Their late-night rap sessions, in which they discussed the challenges of trying to find fulfillment as "new women" while still obsessing over the cultural expectations with which they were raised, would become the genesis of her breakthrough play, Uncommon Women and Others (1977).

Wasserstein's academic performance was mediocre at best, at least until she took a playwriting class at nearby Smith College. It was a revelation: "This was the first time I realized that a person could get credit in life for what they liked to do," she said later. Back in New York after graduation she took more workshops with Israel Horowitz and Joseph Heller, both of whom appreciated her particular gift, an "inclination to inhale the raw material of her life and exhale a comedy routine or a story." She was palpably present as a character in each of her plays, and as Salamon notes, she was adept at "turning a memory—real, imagined, or embellished—into an amusing scene with a sly or outrageous punch line that simultaneously promoted and diminished herself."

It was not a style that appealed to Robert Brustein, head of the Yale School of Drama when Wasserstein studied there from 1973-76. (She dubbed it the Yale School of Trauma.) At Yale Wendy was part of a dazzling cohort that included Christopher Durang, Albert Innaurato, Paul Rudnick, Meryl Streep, Sigourney Weaver, and William Ivey Long. Retrospectively, Brustein realized that he had underrated Wasserstein and her theatrical style. "We were almost ideological in our antirealistic view," he admitted later. "She was not touching on things that went deeper than the sociological." Brustein branded her work as "sitcom-y," perhaps not taking into account the significant social analysis contained in many sitcoms, as well as in Wasserstein's unpretentious dramas. After all, any faithful rendition of women's lives, as Wasserstein knew, must encompass farce as well as tragedy, and in its cruder style Roseanne was to deal with many of the same issues that The Heidi Chronicles had taken up.

Unfashionably realistic or not, Wasserstein's work tapped right into the baby boom sensibility, and from the appearance of Uncommon Women in 1977 her career never veered too far off track in spite of the occasional failure like Miami (inspired by the Wasserstein family's yearly visits to that Jewish Mecca during the 1950s). All her plays contained versions of herself; all her material was personal. Too personal, according to many of her friends, who were shocked at seeing scarcely disguised versions of themselves up on the stage. From the very beginning Wasserstein had specialized in unfiltered reality. In her pre-Yale play Any Woman Can't she based a central couple clearly on her brother Bruce and his then-wife Lynne—so clearly that Lynne, thus forced to confront certain unpalatable truths about her marriage, divorced her husband. Several of Wasserstein's Mt. Holyoke friends were horrified to hear their most private conversations repeated almost verbatim in Uncommon Women. Her posthumous novel about New York café society, Elements of Style—a piece of malicious fluff—brutally lampooned some of her most faithful and generous friends. As Salamon writes, "Wendy had her own definition of privacy. She treated her life as source material and—a cynic might say—as a marketing tool, a way of keeping her audience hooked as they waited for the next installment of the Wendy Chronicles. She had learned the power of secrets from Lola and had become a master of controlling information, publicly and privately. She used self-exposure to draw people in and the illusion of secrecy to leverage relationships, to create a false sense of complicity…"

Wasserstein jealously guarded her own narrative, but now it has been taken out of her hands. She turns out to have been a more complex and nuanced character than any of her own creations, and a darker one, too. Salamon probes her intelligently and respectfully, and when Wasserstein's actions seem inexplicable, the author forebears to make assumptions about her subject's motivations. Wasserstein would probably be horrified to be so exposed; but such is the price of fame.