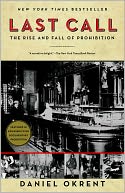 After thirteen contentious years, Prohibition ended on this day in 1933, repealed by the Twenty-first Amendment. The wet-dry debate was won more on taxation than temperance grounds, a government starved for cash weighing the money it was losing from not selling liquor against the money it was spending "to enforce prohibition, which does not exist" (E. B. White). "Where on Manhattan Island can you buy liquor?" asked the New York Telegram in 1928. Answer: "In open saloons, restaurants, night clubs, bars behind a peephole, dancing academies, drugstores, delicatessens, cigar stores…." The reporter went on to quote one housewife overwhelmed by her options: "Times certainly are different. In the old days you never would have thought of buying your wine at the fish store."

The above quotations are included in Daniel Okrent's Last Call (2010), which concludes that "In almost every respect imaginable, Prohibition was a failure":
It deprived the government of revenue, stripped the gears of the political system, and imposed profound limitations on individual rights. It fostered a culture of bribery, blackmail, and official corruption. It also maimed and murdered, its excesses apparent in deaths by poison, by the brutality of ill-trained, improperly supervised enforcement officers, and by unfortunate proximity to mob gun battles. One could rightfully replace our prevailing images of Prohibition — flappers kicking up their heels in nightclubs, say, or lawmen swinging axes at barrels of impounded beer — with different visions: maybe the bloated bodies of the hijacked rumrunners washing up on the beach at Martha's Vineyard…or perhaps the crippled men of Wichita, their lives devastated by the nerve-destroying chemicals suspended in a thirty-five-cent bottle of Jake.
Okrent notes that among Prohibition's unintentional results was industrial consolidation, the 1,345 American brewers in operation in 1915 reduced eventually to a handful: "By 1935 five companies controlled 14% of the market; by 1958 their share had reached 31%; by 2009 the three survivors owned 80%." And one of the unintentional, ironic results of Repeal was that in legalizing drinking it triggered a decline in the practice as less permissive state-by-state liquor codes and enforcement procedures replaced "the almost-anything-goes ethos" of Prohibition.
---
Daybook is contributed by Steve King, who teaches in the English Department of Memorial University in St. John's, Newfoundland. His literary daybook began as a radio series syndicated nationally in Canada. He can be found online at todayinliterature.com.