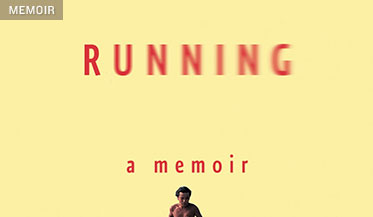 Although the title of Haruki Murakami's memoir, What I Talk About When I Talk About Running, gives you a fairly clear idea of the book's subject matter, the choice of running as a subject for Murakami, who is better known for his novels and short stories than for his participation in the Boston Marathon (seven times), calls for some explanation. So, in the foreword to the book, Murakami explains: "I'm not trying here to give advice like, 'Okay everybody — let's run every day to stay healthy!' Instead, this is a book in which I've gathered my thoughts about what running has meant to me as a person. Just a book in which I ponder various things and think out loud."

The modesty of this claim will be familiar to readers of Murakami's fiction: it sounds like something one of his protagonists — Toru Okada in The Wind-Up Bird Chronicle or Satoru Nakata in Kafka on the Shore — would say. Murakami is widely known as a surrealist, but his great and perhaps underappreciated strength lies in the creation of characters who possess a kind of ethical force. They may not be exceptional in any other way, but they are unimpeachably reliable: not only do you believe their accounts of the almost impossibly strange things that happen in Murakami novels; you come away with the feeling that if you were in a bind (stuck at the bottom of a well, say), Murakami's heroes are the sort of people you could turn to for help.

This kind of determined humility keeps What I Talk About When I Talk About Running from lapsing into self-congratulation (even if Murakami stumbles, now and then, with a sentence like "Exercising every day, I naturally reached my ideal weight, and I discovered this helped my performance"), and it also casts light on the sources of Murakami's fiction. Because, of course, What I Talk About isn't only about running; it's about writing as well, and the connection between running and writing. Murakami, as some readers will already know, began his adult life as the owner of a jazz club in Tokyo; after years of that grueling work he decided to try his hand at writing novels. His first two books (Hear the Wind Sing and Pinball, neither of which has, to the best of my knowledge, been translated into English) were well received, and he sold the bar in order to write full-time. The decision was good for Murakami's fiction (A Wild Sheep Chase came next) but bad for his health; he took up running in order to keep the pounds off.

There have, historically speaking, probably been more writer-walkers than writer-runners, but you can see why a writer would choose running over, say, baseball: it's something you can do alone, without special equipment; it requires endurance rather than speed. In fact, as Murakami observes, running is good practice for the long haul of a novel. Setting aside the mystery of talent, writing a book takes stamina and concentration, both of which can be learned; and just as runners who train conscientiously do better than runners who get by on natural speed, so writers with discipline outlast those without it. All of which leads Murakami to conclude, "Exerting yourself to the fullest within your individual limits: that's the essence of running, and a metaphor for life — and for me, for writing as well."

Which is, to be honest, a platitude, even if it's a true platitude. If such affirmations were all What I Talk About When I Talk About Running had to offer, it would be merely a collect-'em-all curio for Murakami fans or, worse, a work of inspirational literature. But an "individual limit," as Murakami knows (and as the authors of inspirational books tend not to mention) is more of a negative than a positive concept; and it's in the awareness of the negatives, the limits — of both writing and running — that Murakami's memoir finds a melancholy richness akin to that which animates his fiction.

At the beginning of the book, which chronicles the author's running life from August 2005 through October 2006, there's a curious statement: "It's two and a half months now since I resumed my old lifestyle in which, unless it's totally unavoidable, I run every single day." Why, you ask, resumed? The story gradually unfolds: after 13 years of steady progression toward longer distances and faster times, Murakami undertook an ultramarathon, a 62-mile run around a lake in northern Japan. After the elation of completing the race wore off, he writes, "What I ended up with was a sense of lethargy, and before I knew it, I felt covered by a thin film, something I've since dubbed runner's blue." What I Talk About is, among other things, Murakami's attempt to write his blues away, to awaken an enthusiasm for running that lay dormant for almost a decade, and to make peace — in the 2005 New York City Marathon, as it happens — with what he calls "the honor of physical decline."

Did he succeed? For the reader, it's a low-stakes question, but, as anyone who's read Raymond Carver knows (the title of Murakami's memoir is taken from Carver's What We Talk About When We Talk About Love), strong feelings may turn on small gains and losses. So I won't give the ending away, except to say that, unless you know Murakami personally, it's probably not what you expect. And that it is, in a Carver-ish way, moving. However low the stakes may seem, they are, in the end, always the same, for everyone; beyond your "individual limit" as a runner (or mine, which is very low: bad knee) or as a writer, there's an absolute limit, which only follows "the honor of physical decline" if you're lucky.

Near the midpoint of the book, Murakami reflects on a pair of young marathoners who died in a car accident: "And I always think this: they put up with such strenuous training, and where did their thoughts, their hopes and dreams, disappear to? When people pass away, do their thoughts just vanish?" The obvious sequel to this question would be a vindication of writing, but Murakami is too smart, or too committed to his humble persona, to attempt it. Instead, he goes on to talk about a running course near his house in Kanagawa Prefecture: "The only problem is that it's a course where you loop back halfway, so you can't just quit it in the middle if you get tired. I have to make it back on my own steam even if it means crawling." Endurance — this seems to be the point — is not the loftiest virtue, but it may be the one that proves useful the most frequently.