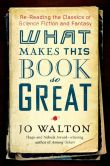 Alert readers will note something important directly from the cover of Jo Walton's accomplished and deeply enjoyable collection of essays ruminating on the books she (mostly) loves: there is no question mark in the title. To parse that punctuational distinction plainly: Walton is not asking herself or her readers any questions about her favorite books. She is not uncertain or in doubt over their worth or qualities. The pre-selection process — these are, for the most part, all books Walton has loved on first encounter, coming up for a re-reading — has ensured that her responses will be generally favorable (although she is not blind to any defects). She knows what she knows, and she is going to convey those sentiments and assessments to you in the most elegant and chummy and forceful way consonant with her respect for differing opinions and tastes.

In short, the reader is being cordially invited to listen in to some fireside ruminations, by a well-versed aficionado, that do not pretend to be Big Thinking. Walton in fact uses her final essay to distinguish between what she does here and "real" criticism. (Although once again, such humility does not stop Walton from offering en passant, in a deceptively offhand fashion, some truly useful and perceptive critical insights into literature, both mimetic and fantastical.) The whole book is, for lack of a correspondingly gender-specific adjective, avuncular, rather like spending a delightful night by the hearth in Bilbo's hobbit hole, or with Mole and Badger. Appearing originally as blog posts at the website of Tor Books, these mostly short forays reflect that medium's nicely informal voice.

Walton starts the book with her amiable credo for re-reading. Throughout the volume will come other mini-essays that do not focus on any one book but offer general insights into such topics as "re-reading long series" or "cosy catastrophes" or "SF reading protocols." But the bulk of these pieces consist of Walton's empathetic and analytical take on particular novels. She offers tight and informative synopses that stop short of spoilers. She contextualizes the readings with charming details from her own life. (A tendency inherent in periodical publication to repeat riffs is noticeable but not annoying. "Made me miss my stop on the metro" is one such tic.) She contextualizes the books themselves with a deep but never intimidating knowledge of the genre's history. Walton herself is a working writer: her award-winning novel Among Others, which might have been subtitled "A Fan's Progress," resonates intently with this volume. As such she understands and conveys much of the hidden compositional processes that underlies these books. Perhaps only Algis Budrys delivered similar insights.

When discussing canonical titles (Le Guin's The Left Hand of Darkness), Walton successfully reminds the reader of just why these great books made the grade in the first place. When discussing quirky or forgotten curiosities (Kathleen Norris's Through a Glass Darkly), she excites the reader's desire to track them down. When discussing what might be termed SF midlist titles (John Barnes's Kaleidoscope Century), she is like a woodworker commenting on the finer points of joinery. Never is she less than kind, conversational, and caring.

When she yokes together a sequence of essays — on Lois McMaster Bujold or Steven Brust or time-travel — she accomplishes mini-monographs worthy of being presented at, say, the International Conference on the Fantastic in the Arts.

Walton speaks of a quality found in Heinlein's writings, where the reader is sucked in immediately and each sentence compels the reading of the next sentence. Surely Walton achieves the same thing here, with each bonbon-like piece encouraging consumption of the next.

Dare I make the obvious observation? Jo Walton has delivered here the very model of the books she idealizes, one that invites re-reading, even if only by dipping in time and again for inspired suggestions.
---

Paul Di Filippo's column The Speculator appears monthly in the Barnes & Noble Review. He is the author of several acclaimed novels and story collections, including Fractal Paisleys, Little Doors, Neutrino Drag, and Fuzzy Dice.