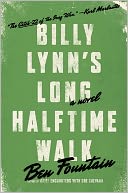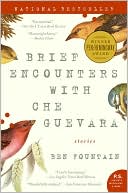 Dear Reader,

I could happily re-read Ben Fountain's stories over and over, given his talent for finding the perfect image and his ribald sense of the absurd. Winner of the 2006 Discover Great New Writers Award, first place, fiction, Fountain's incisive, critically-acclaimed debut story collection Brief Encounters with Che Guevara brings to mind the work of Graham Greene, Katherine Ann Porter, and fellow Discover alums Gary Shteyngart and Adam Johnson.

We'll be talking more about Ben's poignant, often profanely funny first novel, Billy Lynn's Long Halftime Walk — which Discover alum Karl Marlantes, author of Matterhorn, calls "The Catch-22 of the Iraq War" and makes me think of Joseph Wambaugh's 1975 classic The Choirboys — before it goes on sale on May 1st, but I couldn't resist asking Ben to tell us about three books he frequently recommends — Poet's Corner! was Ben's idea, after reading Lysely Tenorio's book recommendations posted earlier on The Discover Blog.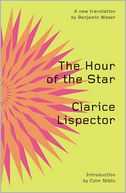 The Hour of the Star by Clarice Lispector, translated by Benjamin Moser
This is without a doubt one of the most audacious and affecting works of fiction I've ever read. Those who read Lispector in the original Portuguese say that her prose has an otherworldly quality that causes a kind of glow to rise off the page. Moser's translation had much the same effect on me, with its startlingly candid idiom, its quicksilver feints and jukes, its manifold evocations of past, present, future and the uncertainty that inheres in all three. The narrative "I" of the story–was there ever such a chatty, confiding, frankly put-upon narrator in the history of books?–tells us the story of Macabéa, a poor, sickly girl from the provinces who comes to Rio to seek her fortune, which turns out to be not much more than a shared room in a crowded slum, a lousy typing job in an office, and a start-again, stop-again romance in which nothing much happens. In fact, not a great deal seems to happen to Macabéa, with the sole exception that everything happens, or pretty much everything that a normal, suffering, ecstatic office girl could possibly experience in her short time on earth.

How to Escape From a Leper Colony by Tiphanie Yanique




Each one of the stories in this marvelous collection packs the force of a 300-page novel. You want range? This writer contains encyclopedias, and can go from a young, upwardly mobile architect in Houston pining for his birth home of Jamaica, to a Caribbean street hustler with women and weed on his mind, to the tale of a bridge told in four parts by, respectively, "an Island that is between things," "a Catholic lady in a big hat," "someone's grandfather in a corner rum shop," and "a seventeen-year-old schoolgirl in patent leather shoes." The title story, about a girl of fourteen exiled to an island leper colony, is a bona fide heartbreaker. Well, actually, they all break your heart in the way that the best stories always do, by scooping into that mortal ache in us that more politely might be called our humanity.

Perfumes: The Guide by Luca Turin and Tania Sanchez




I have no interest in perfume, or thought I didn't until a friend recommended this fun, definitive, endlessly entertaining book. If you're like me you'll skip the technical and historical sections (probably a grave mistake on my part) and go straight to the smartly written reviews, where each perfume is introduced with a two-word sound bite– "fruity vile," "floral ashtray," "diet fougère," "fruitcake cedar"–then explored in the kind of high-wire prose that expands the frontiers of consciousness. You might come across a reference to "the great biophysicist Max Delbrück, the only guy ever to get a Nobel for nothing in particular" (Bulgari BLV "Blù"), then move on to the mysteries of car paint–"A friend once explained to me how Ferrari achieves that gorgeous red . . ." (Fracas)– only to find yourself presented with such existential questions as, "How do fruits know when they're in exotic places?" (Fraîche Passiflore). I frequently give this book as a gift. It never disappoints.

Poet's Corner!

Pieces of Intelligence: The Existential Poetry of Donald H. Rumsfeld, compiled and edited by Hart Seely




Someone, I presume Mr. Seely, had a good idea here–parse the public speech of our former Secretary of Defense for hidden poetic gems. If poets are the unacknowledged legislators of the world, then surely "Rumstud" is our true but unacknowledged poet laureate. With the poems helpfully grouped into sections such as Three Haiku, Twelve Sonnets, Lyrical Poems, and Songs of Myself, we wend our way into the strange, wonderful world of Rumsfeldian verbiage, encountering such mind-bombs as "What we are doing/Is that which is doable/In the way we're currently doing it" (Doing the Doable). When read aloud, these poems tend to cause my wife to collapse on the floor, curl up in a little ball, and laugh like a woman possessed, or being tickled to death. What, exactly, was Rumsfeld trying to tell us with his hidden poems? Maybe in the end what it amounts to is: Trust us. We know what we're doing.
Cheers, Miwa
---

Miwa Messer is the Director of the Barnes & Noble Discover Great New Writers program, which was established in 1990 to highlight works of exceptional literary quality that might otherwise be overlooked in a crowded book marketplace. Titles chosen for the program are handpicked by a select group of our booksellers four times a year. Click here for submission guidelines.