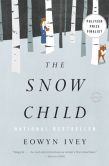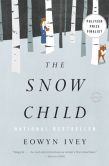 Dear Reader,
The 2012 Discover Awards were presented last week at a private event in NYC; we've asked our finalists and winners to riff on the books they frequently recommend, and we're running their responses on the Discover blog.

Locked in what seems to be a crumbling marriage, two homesteaders find new hope when they discover a mysterious child in 1920s Alaska. With memorable characters and lush descriptions of the sweeping terrain, Eowyn Ivey's acclaimed debut, The Snow Child, is a love letter to resilient, independent spirits. Karl Marlantes (Matterhorn, Discover 2010) presented 3rd, fiction in the 2012 Discover Awards to Eowyn, and this in part, is what he said:
"This compelling novel pulled me in to a mystery and a place that I couldn't leave–except when Eowyn Ivey's descriptions of Alaska winters actually made me get up and build a fire. Her story of an aging and childless couple's love for each other, their pioneer courage and dogged hard work, and a strange, wild, and possibly imaginary child is first-rate literature."
We asked Eowyn to tell us about the three books she frequently recommends, and this is what she said (with one very understandable caveat).
She writes:
"It's dangerous to ask a bookseller and avid reader to recommend books – and it depends a lot on what I've read most recently and who I am recommending it to. But here are a few of my current favorites:"

Care of Wooden Floors by Will Wiles – I am not a comic writer, and in general I don't shop in the humor section of a bookstore. But this debut is one of funniest novels I have ever read. I read it over two afternoons, and I couldn't stop gasping in horror and laughing out loud. In the story, the British narrator is asked to housesit for his uptight, fastidious friend, who has invested a great deal of time, money and worry into his apartment. One catastrophe after another befalls the narrator until he is at the brink of insanity, driven there by wine stains and troublesome cats. It might reveal something dark and strange about my sense of humor, but it felt wonderful to laugh so hard.

Artful by Ali Smith – It cannot be entirely classified as a novel, or as literary criticism, or essay. Artful is the most recent read to both move me personally and inspire me as a writer. The narrator is in conversation with her dead lover, who appears to be haunting her home, stealing books, breaking dishes, and leaving a trail of crumbly ashes. At times the reader doesn't know if the ghost is entirely real or a metaphor for grief. "If I had a chance to fetch you from the underworld, to go down and persuade them and fetch you home, I'd never look back." At the same time, the narrator explores her lovers' essays on art and literature – Oscar Wilde, Virginia Woolf, Margaret Atwood, Charles Dickens, painting, film, photography. So the work also becomes a meditation on how we create art, how it changes us, how we offer it up like a gift. A lovely, mind-stretching book that caused me to reflect on how we can push the edges of form.

[Ali Smith's Hotel World was a 2002 Discover Great New Writers selection. -Ed.]

And Her Soul out of Nothing by Olena Kalytiak Davis. This is the book of poetry I keep by my desk and most often pick up when I need to remember the amazing, limitless potential of writing. Davis is an Alaskan poet, but her work is by no means regional. She is the winner of both the Brittingham Prize in Poetry and a Guggenheim fellowship, and this, her first collection, is surprising and lyrical, and makes me fall in love with words again and again. "summer was/ a tenderness/ as transparent/ and simple/ as the word/ blouse/ as fragile as/ poppies." It saddens me that so many readers and writers think of poetry as obscure or unapproachable or uninteresting. When I read Davis' poems, whether they are about death or marriage or wildflowers, I am reminded that words are complex and can be turned this way and that, like a cut gem.
Cheers, Miwa
---

Miwa Messer is the Director of the Barnes & Noble Discover Great New Writers program, which was established in 1990 to highlight works of exceptional literary quality that might otherwise be overlooked in a crowded book marketplace. Titles chosen for the program are handpicked by a select group of our booksellers four times a year. Click here for submission guidelines.